Top 10 MMA Welterweight Prospects of 2013
09/25/2013
18130 Views
Welterweight Division
#6 Prospect: Assan Njie
Profile:
Assan Njie has been in the sport longer than most would have expected. He got his start way back in 2002 as an 18-year old amateur. He struggled for most of his early career, mustering up just a 5-5 overall amateur record. Njie was primarily competing as a Middleweight and eventually turned pro in 2006. He lost his first career fight, but soon bounced back with a surprising 7-fight win streak, including wins over European prospects Alex Makhonin and Florent Betorangal.
Njie's winning streak would soon come to a halt as he dropped a decision to European veteran Robert Jocz. Njie rebounded once again, winning his next 3 fights via finish before making the official move down to Welterweight.
Njie has since extended his winning streak to 6 overall as he won his last 3 fights over some of Europe's top Welterweight fighters including the likes of Beslan Isaev, Steven Ray, and Morten Djursaa. Njie also captured the Zone FC Welterweight championship in his most recent fight, but has yet to defend the title in over a year. Njie has not fought since May of 2012. He had supposedly signed an exclusive contract with an upstart Scandinavian promotion named Royal Combat in late 2012, but nothing every came to fruition.
Camp/ Country:
Njie trains out of GBG MMA, which is located in Sweden. The gym has lost some of its most notable names recently, including Akira Corassani, but it's still considered one of the better camps in Sweden. Sirwan Kakai, who was featured in the Bantamweight Prospects Report also trains out of GBG. They aren't well known outside of Europe, though they have found recent success sending a few of their fighters to The Ultimate Fighter tapings.
Career Forecast
I am a bit mystified as to why Njie has not received more opportunities to fight in bigger promotions across Europe. Though he recently got a shot in Cage Warriors FC, it looks as if he wasn't signed to a long term deal. Njie has struggled to find fights as of late, but he needs to stay active to remain on the UFC's radar. The UFC will likely be making an annual trip to Sweden due to Alexander Gustafsson's success, so Njie should be one of the top contender to be signed if he can continue to rack up wins. It's been over a year since Njie's last fight, so he needs to somehow find a way to stay active, even if it means facing lackluster competition for smaller paydays.
I was very impressed by what I saw on tape of Assan Njie. He was dangerous on the feet with good knees and powerful punches. Njie has previously trained at Golden Glory and Chute Boxe, which should explain his aptitude for striking. Not to be overshadowed, but his takedowns and overall grappling looked much better than what was previously advertised, and he has an excellent guillotine that has quickly become his go-to move.
Njie's conditioning is still somewhat of a mystery. He has a very aggressive style and though he usually achieves the early finish victory, I wouldn't be surprised to see him struggle in the latter rounds. Njie's ground game has improved tremendously over the last couple of years. Yet, part of me still has concern as to how Njie would fair against UFC-level competition. Njie loves to use his guillotine, but he will likely need to diversify his submission game in order to not become a one trick pony.
Njie is 29 years old and likely in the prime of his career. He needs to stop wasting time and start racking up a few wins to get his record to around 16-2, which should bring him some needed attention and possibly some stateside suitors. Should he sign with the UFC, I could see him finding immediate success against the bottom half of the UFC's Welterweight roster. I am still a bit hesitant to claim he could beat Top 25 competition, but his aggressive style should lend itself towards making him a fan favorite immediately. Hopefully, once the UFC returns to Sweden in 2014, Njie will receive the call he has been waiting for.
Statistics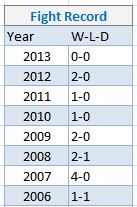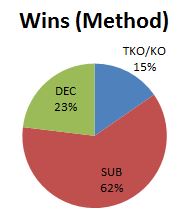 Videos
Video 1: Njie vs. Beslan Isaev (2011)

Video 2: Isaev Highlights

Other Links
Twitter: None
Sherdog Profile: http://www.sherdog.com/fighter/Assan-Njie-6858