Top 10 MMA Welterweight Prospects of 2013
09/25/2013
18132 Views
Welterweight Division
#2 Prospect: Dhiego Lima

Profile:
Dhiego Lima is the younger half of the emerging brother tandem that could one day take over the Welterweight Divisions of the UFC and Bellator.
Though Dhiego's older brother, Douglas, was born in Brazil, Dhiego by all accounts was born stateside. The Lima brothers started training in mixed martial arts at a very young age. Dhiego gravitated towards the striking arts a bit more than Douglas. Dhiego made his amateur debut in 2006 at just 16 years old. Lima built a 4-2 record as an amateur though there are discrepancies between his record on mixedmartialarts.com and Sherdog. Nonetheless, Lima turned pro in 2010, winning his first 3 fights via submission, including wins over fellow prospects Steve Montgomery and Keon Caldwell.
Lima followed his brother's lead to the Canadian promotion, MFC, where he debuted for them in 2010. Dhiego started to put himself on the map as a prospect to watch as most of MFC's events were televised on HD Net. He didn't disappoint as he knocked out Bill Fraser and Jamie Toney, while also earning a submission win over Josh Taveirne.
In the meantime, Dhiego's brother, Douglas, had vacated his MFC Welterweight title after leaving for Bellator. It only seemed natural that Dhiego would keep the title in the Lima family, but he soon fell victim to his first career loss. After having scheduled fights with Terry Martin and Bruno Carvalho scrapped, he eventually ended up facing Strikeforce veteran Nate Coy. Coy used his wrestling to grind out a 3-round decision.
Lima has since bounced back with wins over Nick Hinchliffe and Roger Carroll, but for reasons not announced, he has not been scheduled for an MFC event in over a year's time. He is tentatively scheduled to once again compete outside of the MFC banner against Rick Rainey at an XFC event in September.
Camp/ Country:
Lima trains under UFC veteran Roan Carneiro, who is based out of American Top Team Atlanta. Dhiego trians alongside his brother and was recently one of Brian Stann's main training partners. Lima seems to have access to high-level training partners that specialize in all disciplines, but there has not been any definitive word on whether he's receiving the type of wrestling instruction needed to advance his career. Lima also seems to be affiliated with Ascension MMA, which is home to the Assuncao brothers.
Career Forecast
Dhiego Lima looks to have all the tools to one day be a star in the UFC. His older brother Douglas has already made his presence known in Bellator, and that has led to Dhiego to clearly state that his future aspirations are with the UFC only because in his words, "Bellator is his brother's."
Dhiego is still only 23 years old and the sky seems to be the limit on his future potential. He still has to sort out his wrestling before being fully ready to test himself against elite level competition, but based off what he has been able to do thus far against somewhat experienced competition, he is not too far away from making a run in the UFC Welterweight Division, comparable to that of an Erick Silva or Jordan Mein.
Lima could go to the UFC right now and win fights, but in the mean time he has gained invaluable experience on the regional scene, especially regarding his recent decision loss to Strikeforce veteran Nate Coy. Lima had no answer for Coy's wrestling and you can guarantee that he is in the gym making sure he is better prepared next time he faces a high-level wrestler.
Dhiego's brother, Douglas, is essentially the #2 guy in Bellator at just 25 years old. Dhiego won't be able to skyrocket through the UFC's ranks quite as fast due to the higher competition level, but it would be no surprise to see him one day reach Top 10 status or possibly even see him contend for a title a few years from now. Once the Lima brothers are able to address the wrestling deficiencies there may be no better brother tandem in the sport.
Statistics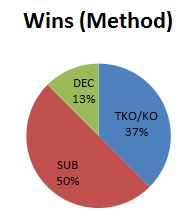 Videos
Video 1: Lima vs. Bill Fraser (2010)

Video 2: Lima Highlights

Other Links
Twitter: https://twitter.com/DhLima121‎
Sherdog Profile: http://www.sherdog.com/fighter/Dhiego-Lima-59607