Top 10 MMA Welterweight Prospects of 2013
09/25/2013
18159 Views
Welterweight Division
#3 Prospect: Yan Cabral

Profile:
Yan Cabral's entry into the UFC ranks seemed to be a lock following his selection to participate on The Ultimate Fighter Brazil 2. Unfortunately, Cabral suffered a broken hand and by all accounts has returned back to Brazil without any promise of a future UFC contract.
Cabral began his MMA career in 2007, winning his first fight via 1st round submission. He went on to win a 2nd straight fight overseas before returning home to Brazil where he competed for Shooto Brazil. Cabral raised his record to 3-0 overall, and soon decided that Europe would be his training grounds towards one day preparing him for a bid in the UFC.
Cabral primarily faced underwhelming and overmatched competition throughout his stay in Europe. He went on to win his next 6 fights all via submission, while also capturing a few regional titles. By 2011, Cabral was 9-0 and was in search of greater challenges. He initially signed with Japan's DEEP promotion, but never ended up competing for them as he was surprisingly chosen as PRIDE legend Kazushi Sakuraba's next opponent for DREAM 17. Cabral accepting the bout with open arms, knowing that this was finally the opportunity he had been waiting for to put his name on the map.
Sakuraba looked to keep things standing early, but he paid for it, as Cabral hurt him with punches before taking him down and submitting him via arm-triangle. Cabral's buzz quickly grew, but he was unable to capitalize on his newfound momentum as DREAM essentially shut down their doors.
Cabral returned back to Brazil and went nearly 18 months without a fight. Then came the announcement that the UFC were holding tryouts for The Ultimate Fighter Brazil. Cabral made the cut alongside 3 of his Nova Uniao training partners Leonard Santos, Roberto Amorim, and Rony Silva. Unfortunately, Cabral would have to beat one of his brethren as he was was matched up against Rony Silva in his preliminary round matchup to get into the house. Silva stood no chance against Cabral's ground game as Yan reluctantly tapped him out in the 1st round.
Cabral went on to be picked 4th overall by team Werdum. After Team Werdum gained control of the fight picks, Cabral was chosen to face David Vieira. Yan submitted Vieira in the 2nd round via rear-naked choke, but it was soon revealed that he had hurt his hand. After x-rays, Cabral's fears were confirmed as he had suffered a broken hand and was forced off the show.
Though it was rumored that he might be brought back at the Finale, it never came to fruition. Cabral has since been booked for an upcoming BJJ tournament in September with no mention of a possible return to MMA.
Camp/ Country:
Cabral has been a long-time fixture of Brazil's Nova Uniao camp. He has all the trademark skills of a Nova Uniao fighter and is known as one of their top ground technicians. Cabral has also briefly trained at Tiger Muay Thai in Thailand to work exclusively on his striking.
Career Forecast
Yan Cabral was one of the early frontrunners to win The Ultimate Fighter: Brazil 2. The fact that the UFC has already evaluated Cabral and deemed his skills sufficient enough to compete on the show, puts Cabral's name at the top of the pack should the UFC need a last minute injury replacement for a future Brazilian fight card. It is a bit curious though as to why Cabral has not been signed outright following the conclusion of TUF Brazil 2. Santiago Ponzinibbio and Luiz Dutra, both of whom also fell victim to injuries on the show have been offered a roster spot. Cabral did win his Quarterfinal round fight just as Dutra did, yet Cabral was not offered a contract. It is a very strange fallout from an all-around stranger season of TUF Brazil that was plagued by injuries.
Cabral's ground game is simply off the charts. Once he gets his opponent to the ground, it is game over. He has one of the very best arm-triangle's in the game today to go along with a full repertoire of go-to submissions. Cabral is a willing striker, though it's obvious that he is only trying to close the distance to bring things to the floor. He is deceptively strong and excels with his trip takedowns.
Cabral still has visible holes in his overall fight game. His striking still needs work and his conditioning and overall wrestling ability are still question marks should he move on to the elite level. Nonetheless, the results are there, counting his TUF Brazil 2 fights, Cabral is 12-0, winning every single fight via submission. There is simply no other prospect out there that has been able to produce those types of statistics.
Cabral will never be a flashy style of fighter, but he is methodical and effective with what he ultimately looks to do, which is use his elite level BJJ game. Cabral is going to run into superior wrestlers and strikers that have the ability to stuff Cabral's takedowns. For that reason, Cabral will likely never reach Top 10 status, but he does seem to have the skills to break into the Top 25. Had he not gotten injured on TUF Brazil, Cabral likely could have won the show, and been given the proverbial TUF winner push that past season winners have enjoyed. Nonetheless, Cabral has already put himself on the map and it should be long until the UFC eventually comes calling.
Statistics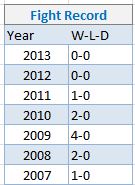 Videos
Video 1: Cabral vs. Gary Kono (2009)

Video 2: Cabral Highlights

Other Links
Twitter: https://twitter.com/yancabral1
Sherdog Profile: http://www.sherdog.com/fighter/Yan-Cabral-27090