Top 10 MMA Heavyweight Prospects of 2013
09/24/2013
19883 Views
Heavyweight Division
#8 Prospect: Chris Birchler

Profile:
Following a relatively successful college wrestling career, Birchler has aligned himself with the AMA Fight Club and has shown off enough talent and potential to possibly one day compete in the UFC.
Birchler wrestled at Edinboro University, which has recently produced a long list of MMA fighters such as Josh Kosheck, Justin Wilcox, and Shawn Bunch. Birchler never claimed All-American status though he was a national qualifier in 2009 and 2010. Birchler was one win away from reaching All-American status in 2010, but he lost to fellow prospect Jared Rosholt. Upon graduation, Birchler began training at the AMA Fight Club, which is one of the most respected camps on the East Coast.
Birchler quickly test his skills in the amateur ranks, amassing a 3-0 record before turning professional in 2011. Birchler initially debuted for the Ring of Combat promotion, easily finishing Shawn Obasi via 1st round TKO. Unfortunately, Birchler would not compete again in 2011 as he had 2 fights scratched in the Pro Elite tournament and Ring of Combat. Birchler eventually returned in 2012, once again winning via 1st round finish. He soon signed with the Cage Fury Fighting Championships (CFFC), which is considered one of the top promotions in the Northeast.
Birchler has since won all 3 fights under the CFFC banner, though he has not been able to finish any of his opponents. In his last win, he defeated Joe Stripling for the CFFC Heavyweight title. He is tentatively scheduled to defend that belt against Johnny Curtis later this year.
Camp/ Country:
AMA Fight Club is home to the Miller brother, Jim and Dan, Charlie Brenneman, Sean Santella, and the list goes on and on. They are stocked full of hard-working, gritty style fighters that are heavy on wrestling and grappling. That style fits right in line with what Birchler has shown in most of his fights. The AMA Fight Club has fighters competing in a variety of promotions, including the UFC and Bellator.
Birchler's promotion, CFFC, does not post any of their fight footage online, so unfortunately most of Birchler's available footage is from a couple of years ago. Despite being the champion at CFFC, they are rumored to have an out clause should the UFC come calling.
Career Forecast
Birchler hasn't lit the world on fire compared to some of the other MMA prospects featured in this Report. There are no big name wins or highlight reel finishes. Yet, that is the way most of the fighters from AMA Fight Club operate. I am not too concerned about Bircher's recent lack of finishes because he has still been able to grind out victories while showing off good conditioning and grappling control.
Birchler is a good athlete, but he is not what I would call explosive. He moves well for a big man and has shown off some excellent grappling when he gets his fights to the floor. When Birchler scores a takedown, that's usually a wrap for the entire round because he is adept at establishing position whether in full mount or seizing back control. Birchler does have some decent power in his hands and has been working feverishly on improving his overall standup. It's still a work in progress, but he has shown off enough skills that he looks somewhat capable of fending for himself should he not be able to score an early takedown.
This could all change once Birchler starts facing stiffer competition. Birchler's wrestling is good, but not elite compared to fellow prospects Steve Mocco, Jared Rosholt, and Mark Ellis. His grappling looks excellent on the available footage I could find, but most of those fights were against opponents with losing records. I try to counter those questions with the fact that he is training with skilled grapplers at AMA Fight Club, but it is still a viable question mark until he faces a battle-tested veteran. The main question mark comes back to Birchler's striking. Many collegiate wrestlers trying to make the transition to MMA end up falling short of expectations due to their overall shortcomings in the striking department. I have noticed that Birchler keeps his chin straight up and doesn't use lateral movement when his opponents come in to pressure. That is a recipe for disaster, so hopefully, Birchler is continuing to work on his striking defense and sorting out these issues before he moves on to the next level.
Birchler doesn't have Top 10 potential like the 2 guys ranked behind him, Walt Harris and Ante Delija. What he does have though is a very good shot at grinding his way to an eventual Top 20 spot on the UFC's roster. Birchler has the wrestling pedigree, conditioning, and grappling to compete at the UFC level. If Birchler can make himself into a Jim Miller-type fighter that is always pushing forward and winning fights based on his heart and grit rather than perfect technique and skill, he has a chance to make it. The UFC's Heavyweight Division is still lacking in the wrestling department. Many of their mid-level fighters (Rothwell, Schaub, Mitrione, Barry) are more of strikers than anything else. That opens up an opportunity for Birchler to potentially come in and win some big fights. I don't think Birchler is ready just yet, but 2 years from now, I wouldn't be surprised to see Birchler come in and hold his own against some of the UFC's current crop of Heavyweights.
Statistics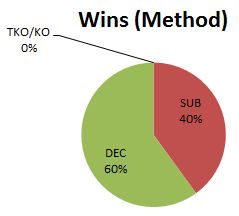 Videos
Video 1: Birchler vs. J.A. Dudley (2012)

Video 2: Birchler vs. Shawn Obasi (2011)

Other Links
Twitter: https://twitter.com/TheBigBuckMMA
Sherdog Profile: http://www.sherdog.com/fighter/Chris-Birchler-75224