Top 10 MMA Heavyweight Prospects of 2013
09/24/2013
19882 Views
Heavyweight Division
#6 Prospect: Satoshi Ishii

Profile:
Satoshi Ishii is still considered to be one of Japan's most prized athletes. Ishii won Gold in Judo at the 2008 Olympic Games in Beijing, China, and has since attempted to capitalize on his popularity and skills by entering mixed martial arts.
Ishii followed in his father's footsteps as he began practicing Judo. At 18 years old, Ishii went on to win the Junior World Championships in Judo. More accolades quickly followed as he claimed Gold once again in the 2007 World Championships. In 2008, the Olympic games ventured to China where Ishii defeated all competitors to earn the most prestigious award possible, an Olympic Gold Medal.
Following the Olympic games, Ishii's popularity was at an all-time high. He announced his intentions to pursue an MMA career and contract offers soon began to fly in. FEG thought they had the inside track, but Ishii was soon seen sitting cageside at a UFC event with Dana White. The UFC helped arrange for Ishii to train at American Top Team as Ishii stated in various interviews that he was going to sign with the UFC. Somewhere along the way, those plans were scrapped and in a stunning move, World Victory Road, representing the Sengoku promotion, swooped in and signed Ishii.
Ishii's first career MMA fight did not live up to expectations as Ishii struggled against 40-year old PRIDE veteran Hidehiko Yoshida. Ishii was unable to sway the judges after a lackluster 1st round and ultimately lost via unanimous decision. Ishii was able to bounce back with 4 straight wins, though some of his performances were still being panned as unimpressive. Japan's fight scene began to crumble as both DREAM and Sengoku were struggling to stay afloat. Without a fight for over 9 months, Ishii traveled to Brazil where he faced off against former WEC champion Paulo Filho in what was supposedly a Light Heavyweight bout. Ishii controlled nearly the entire fight, but the fight was strangely ruled a Draw, even inciting the pro-Filho Brazilian crowd to boo the final outcome.
Ishii returned home to Japan and was offered a fight he simply could not refuse. Ishii was set to face the former #1 Heavyweight in the world, Fedor Emelianenko, at DREAM's New Year's Eve event. Come fight night, few people were giving Ishii any shot of winning, and despite bravely hanging in the pocket early, he was swiftly overwhelmed by Fedor's power and finished via strikes. Following the bout, Ishii was rumored to have suffered a brain injury that would force him to retire, but conflicting reports continues to surface.
Ishii was once again set to fight in Brazil, this time against Sokoudjou, but he missed weight for the 205 lbs. contest, and the bout was scrapped. Ishii soon announced his signing with India's Super Fight League, but he never ended up competing for them after his scheduled bout with Jimmy Ambriz was cancelled.
After being out for nearly all of 2012, Ishii signed with the Inoki Genome Federation, which is mostly known for their professional wrestling events. Ishii has since fought 5 times for them, winning each contest against former UFC veterans such as Tim Sylvia, Pedro Rizzo, and Sean McCorkle.
Camp/ Country:
Satoshi Ishii currently trains out of Reign MMA, which is home to some of the best MMA talent in the world. The camp is spearheaded by the likes of Mark Munoz, Jake Ellenberger, and most recently Chael Sonnen. Ishii has also trained out Black House, American Top Team, Xtreme Couture, and too many others to list. His training partners have always had good things to say about Ishii's work ethic and skills, despite him bouncing around so many camps.
His management team may still be K-Dash, which ultimately guided Ishii to signing with Sengoku back in 2009. Ishii seemed to have a relationship with FEG, but considering their struggles in DREAM, ties may have been severed. Whoever is managing Ishii has gotten him some big paydays throughout his career, but I'm not so sure he's making the type of money he was earlier as the Japanese fight scene has struggled to put on their extravaganza type events, which usually led to the bigger paydays.
Career Forecast
Satoshi Ishii's career has been horribly mismanaged over the years. It's just been one thing after another, from bouncing around to various training camps, flying to Brazil to fight Paulo Filho, supposedly missing weight against Sokoudjou, his rumored medical issue following the Fedor fight, and his association with India's Super Fight League. From one standpoint, Ishii is getting paid good money to step into the cage or ring, but at what stage does Ishii actually stop and realize that he has completely wasted away his potential by attempting to be more of a novelty act than an actual future UFC contender.
Ishii needs someone that is going to sit him down and basically humble him into understanding that he should not be competing at Heavyweight if he is serious about a potential UFC career. In all actuality, I truly believe Ishii could be fighting all the way down at 185 lbs. I've seen Ishii stand right alongside Mark Munoz, and there is very little difference in their statures. So, why is Ishii competing at Heavyweight then? Well, he has had relative success there dating all the way back to his Judo days. Another issue is that there are few big money Light Heavyweights walking around the free agent market. If Ishii cut down to 205 lbs., the only fairly big names out there are Sokoudjou or Vinny Magalhaes, and neither would Ishii much acclaim.
It's hard to argue against a fighter signing with the organization that is going to pay him the most. So, it makes sense that Ishii primarily still fights in Japan. Yet, due to Ishii's immense popularity, the Japanese fight scene will always be there for him. He could sign with the UFC and go 0-3 in the promotion, get released, and still fight for big money in Japan.
Ishii just has to be more careful with the fights he accepts at this point in time. Coming off that controversial Draw to Paulo Filho in Brazil, the last thing he needed was to go get knocked out by Fedor. Everyone knew Ishii stood no chance in that fight, and yes he probably got paid well, but it soured him in the eyes of a lot of MMA media. Ishii basically went in there and looked like a novice, and I'm not sure his career has ever recovered.
This could all change at the drop of the hat though. If Ishii's people reached out to the UFC under the premise that Ishii will compete at 205 lbs., I truly believe the UFC would sign him immediately. There may supposedly be a medical issue stemming from his fight with Fedor, but that might be just hearsay. The UFC is trying to break into that Asian market, and they have shown interest in Ishii all the way back from 2008. Ishii has continually hinted at being in talks with a big stateside promoter, but beyond a brief flirtation with Strikeforce, nothing has came of it.
The UFC Light Heavyweight division is in transition right now. They desperately need new blood as most of their top contenders are well over 30 years old. The question will come down to whether the UFC is willing to competitively offer Ishii a deal that somewhat matches what he makes in Japan. Some might claim, Ishii doesn't deserve more money than a regular signee, but in all truth, he does because of the fanfare he will bring from Japan.
Ishii's striking is still limited at this point in his career. He has some big power in his left hand, but he tends to rely on it a little too often. He does throw some decent leg kicks and his overall footwork and defense are improved from his earlier days. He still barrels in at times with his hands down and will struggle if he is forced to backpedal. His lack of reach has also hurt him and he doesn't extend his punches to begin with, so you can imagine his limitations of fighting at Heavyweight.
Ishii's Judo is outstanding. It's truly going to be the difference maker in close fights against similarly skilled competition. His throws are powerful and usually allow him to claim side control fairly quickly. He is strong in the clinch and has more than held his own against guys 30-50 lbs. heavier than him due to his knowledge of leverage and technique.
Projecting Ishii's potential success in the UFC's Heavyweight Division is a difficult task. He may be able to use his Judo to get some one-dimensional strikers to the ground, but I just don't see that happening against any of the Top 20 fighters in the UFC. He has yet to beat anyone that could be considered at the UFC level. The UFC does have a few lower level Heavyweights they recently added to their roster, which gives me hope that Ishii could be brought along slowly until he realizes it's time to cut to 205 lbs. I highly doubt that the UFC would sign Ishii and throw him to the wolves. They sort of did that with Yoshihiro Akiyama and it didn't really help either party. The UFC usually likes to throw high priced talent right into the fire to see if they deserve it. So, there may not be any cakewalk type fights for Ishii unless he's fighting in a UFC Japan event. Something tells me though that they would treat Ishii like an Ultimate Fighter winner and carefully look to book him in favorable matchups. For that reason alone, Ishii may have an edge amongst all Light Heavyweight and Heavyweight prospects.
The bottom line is that the UFC is looking for a new Asian star to build around. Yoshihiro Akiyama and Kid Yamamoto have struggled to win, Yushin Okami lacks in entertainment, Takanori Gomi is nearing retirement. That somewhat leaves Ishii in a very advantageous position. If Ishii can surround himself with the right people, continue to train at Team Reign, and seriously consider a move down to Light Heavyweight should he sign with the UFC, he could be the UFC's next big international star a la Conor McGregor.
Statistics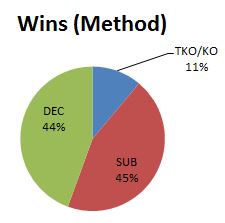 Videos
Video 1: Ishii vs. Tim Sylvia (2012)

Video 2: Ishii vs. Sean McCorkle (2013)

Other Links
Twitter: https://twitter.com/SatoshiIshii
Sherdog Profile: http://www.sherdog.com/fighter/Satoshi-Ishii-41887