Top 10 MMA Heavyweight Prospects of 2013
09/24/2013
19858 Views
Heavyweight Division
#9 Prospect: Walt Harris

*Walter Harris has been signed by the UFC
Profile:
It is only a matter of time until Walt Harris steps foot into the famed octagon. He is a huge, 6'4 prospect with a ton of raw potential that is just starting to come into his own. Walt reportedly was on the verge of being brought into the UFC as an injury replacement at UFC 146, but he will have to wait just a bit longer to make his debut.
Harris grew up in Alabama, primarily playing basketball in his youth. Harris pursued his basketball dreams, playing at a couple of smaller colleges, but ultimately was unable to make it at the professional level. Harris started training in MMA strictly to get back into shape, but coaches soon started to notice how fast Walt was picking up the sport. Harris went on to make his amateur debut in 2009, quickly building a 4-1 record with his only loss coming to future UFC veteran Lorenz Larkin. It should be noted that Harris claims he was 22-1 as an amateur, but most of his fights were unsanctioned.
Harris turned pro in 2011 and quickly looked to establish himself as a force in the Heavyweight division by challenging fellow prospect Chris Barnett. Barnett was 6-1 at the time and dwarfed Walt in notoriety and professional fighting experience, but Walt's management felt he was ready to beat anyone on the regional circuit. Barnett had a history of struggling with his weight, and sure enough he missed weight by 29 lbs. Harris decided to accept the bout anyways, but it came back to bite him as he lost via unanimous decision. Harris supposedly considered retirement immediately after the loss, but he ended up making his return just a few weeks later.
After picking up a couple of wins on the regional circuit, he finally got another opportunity to prove himself against stiffer competition. Harris faced off with Jackson MMA prospect Anthony Hamilton at Superior Cage Combat 4, which was held in Las Vegas in front of a variety of big name MMA stars. Harris impressed, finishing Hamilton via TKO in the 1st round.
Harris has since picked up two wins that are not recorded on Sherdog's FightFinder and is now scheduled to face Nick Smiley later this year.
Camp/ Country:
Harris has bounced around camps over the last few years. He started training out of his local regional gym, but following the Barnett loss, he met up with Din Thomas and began training at American Top Team. Harris quickly started to reap the benefits of training daily alongside UFC level fighters. Recently, he started training at the Mayweather Boxing Club in Las Vegas, which is also home to a variety of elite level fighters like Muhammed Lawal and Roy Nelson.
Harris' camp should have the connections to get him to the UFC or Bellator. Walt has stated his goal is the UFC and it has been made clear that he is on Joe Silva's shortlist for injury replacements. At times, I have questioned Walt's management team, who first threw him into the fight with Chris Barnett way too soon and have failed at getting Walt's name publicized in the MMA media. His Sherdog FightFinder record has not been updated to include his last 2 fights, one of which happened nearly a year ago. Joe Silva and the UFC routinely use Sherdog's FightFinder, and the fact that Walt was told by Dana White to get 3 more wins before possibly signing him, makes this a glaring issue in regards to his handling.
Career Forecast
Coming into this Report, I thought Harris was a Top 3 Heavyweight prospect. After watching some footage and learning about Harris' fighting background, I started to hesitate on deeming him a can't miss prospect.
Walt Harris has huge potential, but there are still some lingering questions about his long term viability as a future top contender. Harris has hinted that he can likely make the cut to Light Heavyweight, which is not a good sign considering the strength and conditioning needed to compete in the UFC's Heavyweight Division. Harris is also already 30 years old and didn't pick up the sport until his mid-20's. He doesn't come from a wrestling or striking background, so most of the skills Walt has been able to showcase are fairly new. That is somewhat remarkable considering the talent and striking Walt has shown. There is also a bit of hesitancy with Harris' commitment to the sport. He has openly stated that he nearly gave up the sport multiple times, and had to be talked back into seeing it through. Part of the retirement talks were due to financial issues and a lack of opposition.
Harris has clearly gotten better with each fight. The improvements are readily noticeable from his recent fight footage. He has started to use his kicks more and his overall footwork and striking defense look more polished. His training at American Top Team and Mayweather's has clearly paid off. Walt has excellent power in his hands and is explosive when he goes in for the finish. His takedown defense has held up thus far, but he has yet to truly face a top level wrestler.
Harris' ability to deal with wrestlers is what has me most concerned. After watching footage of wrestlers Steve Mocco, Jared Rosholt, Tony Johnson, and Chris Birchler, Walt soon started to fall farther down my list. He just doesn't have the pedigree and has yet to prove himself in a fight against a top name fighter. The 3 times he has stepped up in competition, he fell short twice. So, with those questions lingering, and a better than expected crop of Heavyweight prospects, Walt ended up coming in at #9. I will say this though, Walt is one of the only prospects that I ranked in the bottom half of the Top 10 that could truly end up being #1.
Should Walt sign with the UFC, he has the potential to beat anyone outside of the Top 15. The UFC Heavyweight division is deep with talent despite only possessing just 29 fighters. Even a bottom tier fighter like Shane Del Rosario would be a huge challenge for Walt to overcome at this point in his career. Walt certainly has the talent to win, it's just he's untested against top level competition. If built up properly in the UFC, he could make a run, but until his wrestling and conditioning concerns are answered, I can only project him topping out as a Top 15 Heavyweight.
Statistics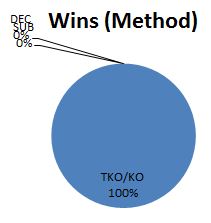 Videos
Video 1: Harris vs. Josh Robertson (2012)

Video 2: Harris vs. Tony Melton (2013)

Other Links
Twitter: https://twitter.com/robertdrysdale
Sherdog Profile: http://www.sherdog.com/fighter/Robert-Drysdale-67894