Top 10 MMA Heavyweight Prospects of 2013
09/24/2013
19885 Views
Heavyweight Division
#2 Prospect: Jared Rosholt

*Jared Rosholt has been signed by the UFC
Profile:
Jared Rosholt is going to be a future Top 10 contender in the UFC's Heavyweight Division. Rosholt is 8-1 overall with his only loss coming to recent UFC signee Derrick Lewis. Since the loss, Rosholt has made some considerable improvements and is now ready to set his sights on the UFC Heavyweight roster.
If the name Rosholt seems familiar to some UFC fans, it's because his older brother Jake, once competed there as a UFC Middleweight. The Rosholt brothers had wrestling in their blood as Jake, Jared, and currently the youngest, Blake, all went on to wrestle at Oklahoma State University. Jared was a 4-time national qualifier, earning All-American honors 3 times, and a national runner-up in 2010. Rosholt soon followed in his brother's footsteps as he transitioned over to mixed martial arts following the conclusion of his collegiate wrestling career.
Rosholt went on to make his debut in 2011, and in just over 3 months, he was able to rack up 4 quick wins, all coming via finish. Rosholt looked to be on the fast track to a UFC contract, but he suffered a torn ACL and was sidelined for over a year.
He eventually made his return in 2012 where he faced off with fellow prospect Derrick Lewis at Legacy FC 13, in what would be a 5-round title fight for Legacy's vacant Heavyweight championship. Rosholt started out strong, controlling the early part of the fight, but in the 2nd round, Lewis was able to get back to his feet and shockingly pull off the upset by stunning Rosholt with strikes and finishing him via knockout.
Rosholt may have come back a bit too early from his knee surgery, but he is not one to make excuses. Rosholt worked diligently on improving his conditioning and striking before stepping back into the cage against Richard Odoms in 2013. Rosholt has since run off 4 straight victories, against somewhat reputable competition like Odoms and Bobby Brents.
Camp/ Country:
Rosholt trains out of Team Takedown, which also houses Johny Hendricks, Jake Rosholt, Shane Roller, and Chas Skelly. The wrestling-heavy camp fits right in with what Rosholt is looking to do in most of his fights. He has also trained his Jiu-Jitsu with Marc Laimon at Cobra Kai.
Career Forecast
Jared Rosholt has some of the best wrestling in the entire Heavyweight Division. Wrestling has always been known as one of the fundamental skills needed to succeed at the elite level, and Rosholt should have no problem showing he has what it takes to compete amongst the Top 15 fighters in the world today.
Rosholt's striking was always my big concern, but following his KO loss to Derrick Lewis, he has made some remarkable changes. Rosholt lost 20 lbs. and his speed, conditioning, and movement looks completely revamped. He's also developed a big overhand right that is capable of knocking people out cold. His still chooses to take a few more punches and leg kicks than I prefer, but he has mentioned that he is continually working on fighting at a distance, which at this point is his #1 weakness. Rosholt does keep his hands a little lower than desired, and though he can take a punch, he'd be wise to shore up his technique prior to signing with the UFC.
Rosholt's wrestling is top notch. His top game is developing and he is capable of finishing his opponents via ground 'n' pound or submission. Though his conditioning looks stellar, Rosholt will have to make it a priority to better his finishing skills because the only times I have seen him struggle on his feet are when he's fatigued and getting a bit sloppy with his takedown attempts.
It's still a bit early to stack Rosholt up against the likes of Cain, JDS, or Cormier, but I would like his chances against anyone outside the Top 10. The UFC's new breed of Heavyweights are arguably considered to be Travis Browne, Stipe Miocic, and Todd Duffee. In my opinion, Rosholt has the skill set to beat any of those fighters. There is risk involved forecasting such success for a somewhat untested, inexperienced fighter like Rosholt, but it is not often that we are able to see such a high level wrestler enter the sport of mixed martial arts, especially in the Heavyweight Division
Mark my words, when Rosholt signs with the UFC, it won't be long until he starts being discussed as a potential threat to Cain's title reign. Rosholt may not have the overall game to unseat Cain, but he's certainly got what it takes to be a legitimate contender for years to come.
Statistics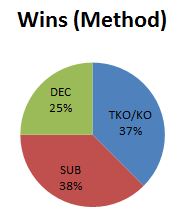 Videos
Video 1: Rosholt vs. Jason Walraven (2013)

Video 2: Rosholt vs. Kirk Grinlinton (2011)

Other Links
Twitter: https://twitter.com/JaredRosholt
Sherdog Profile: http://www.sherdog.com/fighter/Jared-Rosholt-76763