MMA Prospects Report 2013: Introduction, FAQ
09/25/2013
7372 Views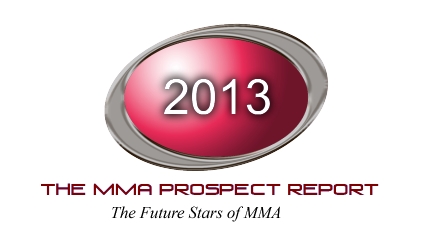 The MMA Prospects Report 2013
Welcome to the very first yearly edition of the MMA Prospects Report. I will be taking you through the depths of each weight class across the world in search of tomorrow's future stars.
Over the last 2 years, I have posted prospects rankings here at www.rankingmma.com. During that time 68 of the fighters we have listed have been signed to the UFC or Bellator. That is a huge number! So, maybe I have a decent eye for finding top talent on the regional scene, or maybe I was simply lucky, but either way, I am hoping this MMA Prospects report will bring more hype and publicity to the fighters featured. Maybe, even Joe Silva or Sam Caplan will get word of this report and offer me a scouting position. Not likely, but you can never say never.
Prospects featured on my site over the last 2 years have quickly found success at the big show level. Fighters such as John Lineker, Hacran Dias, Rony Jason, Conor McGregor, Andrey Koreshkov, Gunnar Nelson, Brandon Thatch, Uriah Hall, Glover Teixiera, Attila Vegh, Jimi Manuwa, and Vitaly Minakov are just a small sampling of the fighters who once made our prospects lists. So, if you are wondering why you should come back and read my MMA Prospects Report, that should be enough right there.
Feel free to leave comments about the prospect featured or to add any additional info I may have missed.
Eligibility Requirements for prospects to be featured in our Prospects Report:
– A Prospect has not participated in the UFC, PRIDE, Strikeforce main card, or a Bellator tournament (Bellator and Strikeforce sometimes signed guys to 1-fight contracts on their undercards as regional draws. This does not eliminate a prospect from eligibility).
– There is no age limit. Glover Teixeira, Michel Prazeres, and Ryan Jimmo are all recent examples of why eliminating a prospect just because they are north of 30 is a mistake.
– A prospect must have at least fought once professionally to be considered eligible. I will not rank prospects based solely off their past sporting success (amateur wrestling, BJJ tournaments, K-1 experience, etc.), who have never participated in a sanctioned MMA fight.
Frequently asked Questions:
1) Where is the women's division?
Unfortunately, it won't be featured in this year's report. I have yet to fully study the UFC's newest division. I will try to have it featured in next year's edition.
2) What criteria do you use to rank your prospects?
Potential. That is the big word in all of this. Which fighters competing around the world have the potential to one day be fighting on the biggest stage. Athletic backgrounds such as wrestling, K-1 experience, former crossover athletes from Judo, BJJ, or even pro football are taken into account. Many of the top fighters in the world come from some sort of athletic background that separates them from the pack. That's my #1 criteria I am looking for. Beyond that, I start looking at the fighter's record, his finishing rate, and the strength of competition he has faced.
If he shows decent potential, I will begin watching some footage from YouTube. I will then start looking at the camp he fights for and his ultimate potential of one day signing with the UFC or Bellator. If I stumble onto a prospect that is in his late 30's with a solid record, but he fights out of an unknown camp and has continually fallen short against stiffer competition, there is a good chance I am not listing him in this report. I am not looking for guys that would simply fill the bottom barrels of the UFC's or Bellator's rosters, but prospects that could actually be future contenders.
Prospects Report Timeline
Every weekday, Monday-Friday, starting June 3, 2013, I will be releasing one new prospect report at 8:00 am. Thus, in 2 weeks, I will have covered 10 fighters and one full weight class. I will be starting with the Flyweight Division and ending with the Heavyweight Division. There are 8 weight classes total, and 80 fighters will be featured on this report. So, doing the math, this report will be fully completed in 16 weeks. If a fighter signs with the UFC or Bellator during that time, we will not remove them from the report.
I will include the table below that will be updated daily and within each prospect post. This manifest of sorts will always be accessible to readers if they missed a profile one day or would rather want one central place to read the reports.
If you like the MMA Prospects Report, please try to bring some attention to it through MMA forums or recommending it to another MMA fan. Thank you always for your support!
Creator/Writer: D.C. Ross
Contact Info: [email protected]
Sources of Information: Sherdog.com, Youtube.com, Tapology.com, Mixedmartialarts.com