Viktor Nemkov : MMA Prospects Report 2013
08/29/2013
6009 Views
Light Heavyweight Division
#7 Prospect: Viktor Nemkov

Profile:
Viktor Nemkov is Russia's top Light Heavyweight prospect following the recent defection of Mikhail Zayats to Bellator. Nemkov is currently riding a 7-fight win streak and has likely positioned himself for another shot at winning the M-1 Light Heavyweight title.
Nemkov was born in Kazakhstan and began training in Judo at a very young age. He soon transitioned over to Combat Sambo where he finished 3rd in 2009 before ultimately winning Gold in 2011. During Nemkov's Combat Sambo training he eventually linked up with the Red Devil Sports club, which famously housed the legendary Fedor Emelianenko.
Nemkov made his official MMA debut 2008 facing fellow top prospect Magomed Sultanakhmedov. Nemkov lost via 1st round TKO, but shortly thereafter signed with M-1, and began racking up wins, moving to 5-1 overall. Nemkov would struggle through a rough patch in 2009 as he dropped bouts to Tony Lopez and Kahnilav Kahnilaev. Nemkov bounced back by winning a few fights outside of M-1 before being brought back to contend for their vacant Light Heavyweight title against UFC veteran Vinny Magalhaes. Nemkov held held his own early, but in the 3rd round he found himself caught in a rare gogoplata, forcing him to tap.
Nemkov once again left M-1, but quickly found a new home in the League S-70 promotion. Nemkov went 4-0 there, including a 1st round submission victory over Baga Agaev. Nemkov was once again re-signed by M-1 in 2012 and has since won his last 3 fights, extending his overall winning streak to 7.
Camp/ Country:
Nemkov is a member of the one of the most storied teams in MMA history, the Red Devil Sport Club. The camp famously housed big names like Fedor Emelianenko, Gegard Mousasi, Aleksander Emelianenko, and Andrei Semenov. The club has stayed competitive as many of their longtime fixtures have retired. Bellator fighters Alexander Volkov and Mikhail Zayats highlight the new generation of Russian fighters, though there is a plethora of developing talent coming up the ranks. Red Devil has not sent a fighter over to the UFC in quite some time, but they have recently had a good relationship with Bellator.
Career Forecast
Viktor Nemkov isn't the flashiest prospect, but he is a very good all-around fighter with world class Sambo talent. He is just 26 years old and has already attained a ton of experience fighting in the M-1 promotion. Though he has thus far struggled against stiffer competition, he seems to have recently turned the corner following his loss to Magalhaes.
Nemkov's striking is still a work in progress, but he is very light on his feet. Nemkov lacks overall power in his strikes and can be a bit lackadaisical with his technique, but he has shown some improvement with his kicks and a decent right hand. Nemkov's main weapons are his Judo throws and excellent submission game. Nemkov was so confident in his own grappling that he was willing to test his ground game against the world champion grappler Magalhaes. Though it came back to bite him in the end, Nemkov showed some impressive submission defense.
Nemkov is a very slender Light Heavyweight and would have to immediately consider a move to Middleweight should he sign with the UFC or Bellator. He has thus far been able to use his Judo and Sambo to successfully bring his opponents down to the floor, but we have seen him struggle at times against bigger opposition (Magalhaes, Lopez). My fear is that Nemkov's ability to finish fights at the UFC level would be nearly impossible against the Top 25. Should he move to Middleweight, Nemkov could be a force to be reckoned with, but at 205 lbs., his size will likely be too much of a disadvantage to overcome.
All that being said, Nemkov is an extremely skilled Light Heavyweight. He moves like a Featherweight and his blend of Judo and Sambo make him a unique fighter for the division. I could see Nemkov having success against the bottom half of the UFC's Light Heavyweight roster. I think he would have no problem dealing with the likes of Igor Pokrajac and Anthony Perosh, but as he moves up the ranks, better skilled strikers and wrestlers await. I ultimately see Nemkov falling just short of Top 25 status. Middleweight is another story though. There I could see Nemkov reaching Top 20 status, comparing very favorably with #1 Middleweight prospect Mamed Khalidov.
Nemkov's affiliation with M-1 has been on and off throughout the last couple of years. If he is a free agent, I fully expect Bellator to make a play for him. His teammates Volkov and Zayats are finding success in their respective weight classes and should Nemkov drop down to MW, he could potentially give Shlemenko a solid fight.
Statistics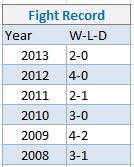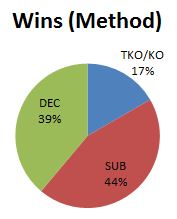 Videos
Video 1: Nemkov vs. Vinny Magalhaes (2011)

Video 2: Nemkov vs. Chuck Grigsby (2011)

Other Links
Twitter: None
Sherdog Profile: http://www.sherdog.com/fighter/Viktor-Nemkov-30916
The 2013 MMA Prospects Report