Tyrone Spong : MMA Prospects Report 2013
09/05/2013
6452 Views
Light Heavyweight Division
#2 Prospect: Tyrone Spong

Profile:
Tyrone Spong may be the most devastating striker to ever enter the UFC Light Heavyweight Division. At just 2-0, and with his combat sports career still intertwined with kickboxing, there are some lingering questions about whether Spong can truly dedicated himself towards learning the ground game. If Spong is able to develop his takedown defense, he has all the potential in the world to one day become the UFC Light Heavyweight champion should Jon Jones eventually vacate his title and move to Heavyweight.
Spong was born in Suriname,which was colonized by the Dutch, and located in South America, just north of Brazil. Spong's family eventually moved to the Netherlands, which is home to many of the world's top kickboxers. In Spong's teenage years he began sparring with Gilbert Yvel and Alistair Overeen, and soon made his kickboxing debut in 2001. From 2001-2008, he amassed a 41-3-1 record in kickboxing, and soon proved he was ready for the best the kickboxing world had to offer.
Despite being undersized and one of the youngest competitors, Spong qualified for the K-1 Heavyweight Grand Prix in 2009 and 2010. Spong found mixed results against the elite Heavyweights of K-1, and though he represented himself well, he came up short against the likes of Gokhan Saki and Alistair Overeem. In 2011, Spong started to come into his own as a striker and has since run off 8 straight wins, including knockouts of kickboxing legends Remy Bonjasky and Peter Aerts.
Spong's attention soon started to drift toward mixed martial arts in 2011-2012 as kickboxing began to struggle through rough financial times. Spong moved stateside and began training at the Jaco Training Facility, which is home to the Blackzilians camp. He was rumored to have signed with Titan FC, but a few weeks later announced his intentions to fight for the World Series of Fighting.
In the World Series of Fighting's debut event, Spong made his own respective MMA debut, knocking out journeyman Travis Bartlett. Spong struggled with visa issues, but eventually came back in 2013 to score a decision win over striker Angel DeAnda at WSOF 4.
Camp/ Country:
Spong trains out of the Blackzilians camp where he has developed a close friendship with former UFC champion Rashad Evans. Blackzilians is stocked full of UFC level training partners like Vitor Belfort, Alistair Overeem, Anthony Johnson, and Thiago Silva. Spong has contributed his own striking expertise while getting schooled in all things grappling and wrestling. The Blackzilians camp at times has been criticized for not having a central leader and though they experimented having Mario Sperry as a head coach, they ultimately went back to having multiple coaches in varying disciplines.
Some may argue that Spong is getting to train his wrestling with Rashad, but in all reality the Blackzilians camp is mostly known for their striking. I don't foresee Spong moving camps, but a venture to neighboring American Top Team or a move out west to American Kickboxing Academy could do wonders for Spong's career. Both camps have made a penchant for developing their fighters' overall skills. Individualized training is something Spong likely requires in order to get his grappling up to par with the UFC level competition. As previously mentioned though, Spong is unlikely to leave the Blackzilians camp due to his manager being the owner of the Jaco Hybrid Training Center.
Career Forecast
Tyrone Spong has all the potential in the world to be one of the best strikers the UFC has seen in some time. Yet, the question is whether Spong will be able to shore up his ground game to make him one of the best mixed martial artists in the world. That remains to be seen as Spong has thus far only faced mediocre competition that were primarily strikers.
Spong is  a beast of a fighter though. He has all the raw components of a future champion with excellent size, athleticism, power, and speed. If anyone is going to be able to hurdle that learning curve, Spong has the ability to do so. He is still young, having just turned 28 years old, and has surrounded himself with a variety of world class fighters throughout his career. Despite only having 2 fights on his record in MMA, he has over 70 fights in kickboxing, which makes him a seasoned veteran when his fights are standing.
As we all know with great strikers, they are usually only as good as their takedown defense allows them to be. Spong has at times looked hesitant striking under MMA rules. Not only is he fighting with smaller gloves, he is now having to fight longer periods of time out of the clinch, or up against the cage. All these nuances do not happen overnight, and thankfully WSOF has allowed Spong to face some lesser skilled opponents in his first few bouts. Many fans are calling for Spong to face better skilled competition, but it would be foolish to throw Spong to the wolves at this point. It is perfectly understandable to let him slowly develop, while fighting on NBC Sports, and getting some fights under his belt.
Spong's striking speaks for itself with 46 career KO/TKO's in kickboxing. He has devastating power in his hands and is also well known for using kicks, knees, and elbows. Spong has also recently proven that he can go 3 rounds in MMA, and though many criticized his decision win over DeAnda, it was likely an invaluable learning lesson for the level of conditioning Spong will need to compete.
Another question surrounding Spong's long-term viability in the sport is his back-and-forth relationship with kickboxing. Spong is still making good money from kickboxing and you cannot fault him for staying busy and taking advantage of his kickboxing skills, but at some point Spong is going to have to truly dedicate himself fully towards mixed martial arts. At Spong's age, he can afford to leave kickboxing alone for a few years and pursue this mixed martial arts dream. Part of me wonders whether Spong wants all in though. Spong is a striker through and through. He's said in a few interviews that he's enjoyed training wrestling and grappling, but I think most in the know, realize that it is probably not the truth.
Spong is basically a whitebelt in all things ground-related. His athleticism will allow him to get by in some sketchy situations, but in all reality, Spong has an uphill battle, I'm not he's going to be able to win, especially considering his current training environment and continued participation in kickboxing events.
Taking all this into consideration, this is why I have Spong ranked #2. He certainly has the physical tools to easily be #1, but not having wrestling or grappling experience in this day and age in mixed martial arts is basically a death sentence for long-term success. Some may argue that Jose Aldo or Anderson Silva never had world-class wrestling or ground games, but they have at least shown throughout their careers that they can consistently stuff takedowns or handle themselves admirably on the ground.
Spong could walk into the UFC and dominate the likes of Fabio Maldonado and Joey Beltran, but once he starts facing strikers with submission skills, the fear starts to set in that Spong may not have what it takes to make it to the next level. Spong has Top 5 potential. Heck, he has championship potential, but it will all come down to the efforts he is currently putting towards learning the intricacies of being a well-rounded mixed martial artist.
Statistics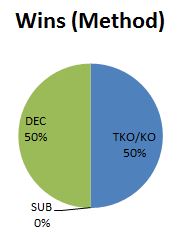 Videos
Video 1: Spong vs. Travis Bartlett (2012)

Video 2: Spong K-1 Highlights

Other Links
Twitter: https://twitter.com/Tyrone_spong
Sherdog Profile: http://www.sherdog.com/fighter/Tyrone-Spong-113237
The 2013 MMA Prospects Report