Tony Johnson : MMA Prospects Report 2013
09/18/2013
7156 Views
Heavyweight Division
#3 Prospect: Tony Johnson

[review]
Profile:
Tony Johnson supposedly was a 4-time All-American wrestler at Iowa State University and had the potential to be an NFL player, but despite claims of his collegiate wrestling prowess, there is not a whole lot of factual information to back that up. In addition, Johnson's camp has routinely floated around the rumor that he was one fight away from signing with Strikeforce or the UFC, yet nearly a year later, those rumors seem to be false as well. Johnson still has the skills and raw athleticism to be a future Top 10 UFC Heavyweight, but time is rapidly running out on his opportunity to get his career on track.
Johnson had a long list of athletic accomplishments growing up, most of which came in wrestling and football. Johnson was recruited by some of the top schools in the nation, including Ohio State Univeristy, but he eventually signed a letter of intent with Iowa State University. There were some questions regarding the years he attended and according to MMA Junkie, he was a 4-time All-American, but after researching those claims and scouring through the NCAA brackets, Johnson's name is nowhere to be found. He was not even listed an NCAA qualifier for the years he supposedly attended ISU. Nonetheless, Johnson said that he was ultimately forced to give up his athletic dreams to help take care of his newborn baby.
In 2008, Johnson began getting back in shape and soon concentrated his effort on a future MMA career. Just a few months later, he made his debut against future M-1 Heavyweight champion Kenny Garner. Johnson won the bout via 2nd round TKO and soon followed it up with back-to-back wins in 2009.
Johnson went on to sign with King of the Cage in 2010, immediately challenging Tony Lopez for his Heavyweight title. Lopez came into the fight with a 16-fight win streak and seemed to be on the verge of a big show contract, but Johnson put a quick end to those plans as he smothered Lopez with his wrestling to win a 5-round unanimous decision. Johnson's title reign would not last long as King of the Cage brought in future UFC contender Daniel Cormier. Johnson held his own early, but he eventually succumbed to Cormier's wrestling and was choked out midway into the 1st round. Johnson competed once more for King of the Cage before signing a contract with Bellator in 2011.
Johnson's relationship with Bellator started off decent as he won his debut against fellow prospect Derrick Lewis. The bout was hardly Johnson's most impressive performance, but he was arguably one of their top heavyweights on their roster. For reasons unknown, Bellator and Johnson got into a bitter contract feud that lasted nearly 2 years.
Johnson hinted that he was on the verge of a Strikeforce contract to fight Josh Barnett, but that never proved true. A few months later, he ended up signing withe One FC where he was set to face former UFC champion Tim Sylvia. Johnson once again threw out the rumor that if he beat Sylvia, a UFC contract would be waiting for him. Johnson did go on to defeat Sylvia, but he was not signed to the UFC as promised. He is supposedly still under contract with One FC.
Camp/ Country:
Johnson currently trains out of American Kickboxing Academy, which is home to some of the top heavyweights in the world including Cain Velasquez, Daniel Cormier, and Todd Duffee. He also trains out of the SUCO boxing club in Tennessee, though it is not known which camp he spends more time with. Johnson previously trained out of American Top Team and Ghost Wolf.
Career Forecast
Tony Johnson's career has been an absolute train wreck of mishandling. He has fought just once in the last 2 years, and after finally getting out of his Bellator contract he goes and signs with One FC, who have notoriously strict contact terms as well. Had Johnson stayed in decent shape and picked up a few wins on the regional circuit following his loss to Cormier, he probably could have signed with the UFC back in 2011. The same holds true had he picked up a few wins after his Bellator release earlier this year. Thankfully, Johnson has started working with American Kickboxing Academy, which will hopefully guide him towards making wiser career decisions.
One FC could have been a good opportunity for Johnson had it only been a 1-fight contract. Soa Palelei and Andrei Arlovski resisted signing long-term deals with One FC because they had no UFC out clause. The win over Sylvia has put Johnson back on the map, but now we will see whether it was worth the cost. One FC has continually made claims that they are the biggest promotion in Asia and will one day conquer the UFC. Yet, there was a reason Palelei did not sign with One FC, and now Johnson will likely have to learn the hard way. Palelei has since been signed to the UFC, and his management should be applauded for resisting One FC's contract terms.
Johnson's physical tools are the one thing I do not have to question at this point in time. Despite hovering around 300+ pounds at varying points in his career, Johnson is one of the best overall athletes I have seen in the Heavyweight division. He was a heavily recruited athlete coming out of college and even had offers from Ohio State University and Florida. Though some have questioned Johnson's commitment due to recent weight issues, it seems to be that he was quite motivated to succeed as a 2-sport athlete at the NCAA I level. It is no often that an athlete has the talent to compete in two sports at such an elite level, but it seems as if Johnson was that rare type of athlete coming out of high school where he ran a 4.6 40-yard dash, bench pressed 350 lbs., and squatted 550 lbs.
Johnson's wrestling accomplishments in college may be a mystery, but he certainly does flash some solid wrestling skills that have mostly been his ticket towards winning fights. His striking still looks to be confined to boxing techniques, where he likes to use a left jab to set up his big right hand. He does tend to stand in front of his opponents and we have seen him get rocked for it in previous bouts with Lewis and Sylvia.
Johnson's size is also a huge asset. Once he gets his opponent down to the floor, he does an excellent job at keeping them there. Johnson doesn't have elite finishing skills, but he does just enough to usually prevent a referee standup. Johnson has hopefully gotten his weight issues under control, recently stating that he is walking around at 280 lbs. He could stand to lose a few more, but for now, it is a step in the right direction. Johnson's conditioning is still a big question mark. He's faded down the stretch of his last couple of fights and things will only get harder against stiffer competition.
If Johnson is in peak shape and signed with the UFC tomorrow, I see no reason why he could not rise through the ranks and find himself in the Top 15. He's going to struggle against strikers with good takedown defense, but if he can get his conditioning up to par, Johnson really could be a beast to handle. Based off recent footage, he seems to be a step slower than he should be operating at. If he can back to his optimal weight and showcase some of the explosion of his earlier football and wrestling career, there is a ton of upside that makes Johnson a legitimate elite level prospect.
Johnson compares somewhat favorably to Daniel Cormier, though he lacks the polish and overall skill level of his fellow AKA training partner. Hopefully, Johnson has witnessed firsthand from Velasquez and Cormier, the level of commitment and conditioning needed to compete at the UFC level. My hope is that Johnson's management has not signed a long term deal with One FC. If Johnson truly is a free agent, it should only be a matter of time until he is finally able to make good on the recent rumors of his arrival to the UFC.
Statistics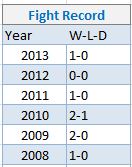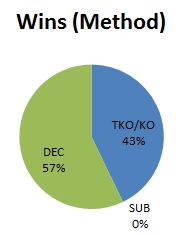 Videos
Video 1: Johnson vs. Tim Sylvia (2013)

Video 2: Johnson vs. Daniel Cormier (2010)

Other Links
Twitter: https://twitter.com/HulkJohnson
Sherdog Profile: http://www.sherdog.com/fighter/Tony-Johnson-41069
The 2013 MMA Prospects Report