Tim Williams : MMA Prospects Report 2013
08/13/2013
6292 Views
Middleweight Division
#9 Prospect: Tim Williams

Profile:
Tim Williams has been considered one of the East Coast's top Middleweight prospects for nearly 3 years. He finally got his opportunity to shine on The Ultimate Fighter 17, but fell just short in the preliminary rounds. He seemed to do enough to impress the UFC brass, so it would be no surprise to see him given another opportunity in the very near future.
Williams' athletic background is not well known. He admitted he got in his fair share of trouble in his youth, including a car accident that nearly cost him his life. Williams eventually made his way to MMA, where he made his amateur debut in 2007. He went 6-0 as an amateur with all of wins coming via finish.
He turned pro nearly 2 years later, and began competing in the Locked in the Cage (LITC) promotion. Williams went 3-0 in the LITC, submitting all of his opponents in the 1st round, and capturing their Middleweight title in the process. Williams fought once on the regional circuit before defending his belt against fellow prospect Duane Bastress. It was a back and forth fight, but Williams eventually won via doctor stoppage in the 3rd round.
Williams soon left LITC for the Cage Fury Fighting Championships (CFFC), which is regarded as one of the top 2-3 promotions on the East Coast. Williams would be tested early as he faced off with UFC veteran Andrew Gusmao. Gusmao was considered to be the favorite heading into the fight, but Williams cemented his top prospect status as he fought through a rough Round 2 to storm back and win the fight in the final round via TKO.
Williams seemed to be on the verge of a UFC contract, but it never came to fruition. He ended up sitting out for nearly a year before finally returning to easily choke out journeyman Lewis Rumsey. Williams' next fight would not be so easy though as he was set to face off against UFC veteran Dave Branch for the CFFC Middleweight title. Branch ended up being a late scratch and was replaced with recently released UFC veteran Dustin Jacoby. The fight ended with controversy as Jacoby landed a slicing elbow against the cage that opened up a cut above Williams' eye. The doctors determined that Williams was unable to continue and the fight was stopped.
Williams did not have long to stew over his 1st career loss as he headed to The Ultimate Fighter 17 auditions. Williams passed the audition phase and was set to face Dylan Andrews for a spot in the TUF 17 house. Unfortunately, Williams ended up drawing one of the tougher 1st round matchups and lost the fight in a close decision.
Williams recently returned to the CFFC cage where he picked up another submission win over Noah Faunce, bringing his overall record to 8-1.
Camp/ Country:
Williams trains out of Team Balance, which is home to Bellator veterans Tim Carpenter, Gemiyale Adkins, and Will Martinez. Light Heavyweight prospect Kyle Cerminara trains out of Team Balance as well, so the camp has its fair share of talent, yet none of whom have really broken through on the big show level. Williams is also known to work with Aaron Meisner out of Philadelphia Fight Factory.
Career Forecast
Tim Williams was likely on the verge of a UFC contract coming into 2012. Unfortunately, it all came crashing down as he lost due to a cut against recently released UFC veteran Dustin Jacoby in CFFC, and then missed out on a golden opportunity to get into the TUF 17 house as he lost to Dylan Andrews via decision.
Dana White and TUF 17 coaches Jon Jones and Chael Sonnen, all commented that it was a very close fight, but for Williams, it had to be hugely disappointing to not make the show and punch his ticket to the UFC. Now, Williams has that label as not being good enough to even make it into the TUF house. In all reality, the guy he lost to, Dylan Andrews, ended up making it to the Semi-Finals, and being much better than people had given him credit for.
Williams' weaknesses came back to haunt him in his TUF 17 preliminary fight. He gives up way too many takedowns and can be overpowered by stronger fighters. Though he usually has great sweeps and submissions, he seems too willing to go to the floor at times. Against lower quality competition, Williams is usually the aggressor and can easily dictate where he wants the fight to happen, but against higher quality competition, I have seen him struggle to establish position. Some of that may be attributed to Williams being so well-rounded. He is willing to go wherever the fight goes because he is talented in all areas, but at times he will allow his opponent to choose where the fight takes place and in the higher levels of MMA, that will eventually come back to bite you.
Williams carries a ton of muscle despite his 6'2 frame. He can still be pushed around at times, and will have to continue to work on his wrestling in order to truly make it at the UFC level. His overall striking is still developing, but he already possesses a solid left jab and strong leg kicks. He striking style can be a bit stiff and upright, but he usually mixes in his takedowns so much that it is hard to ever take advantage of that.
Williams seems to prefer the ground game. As previously mentioned, he has outstanding sweeps, and with his long limbs, he is adept at gaining back control or suffocating his opponents with top control. His 8 career wins have all come via finish, and that's mainly due to his ground game.
Williams will likely need to win a couple more fights to get back on the UFC's radar. From what I have seen of him on tape, he is ready for the bigger and better things at this point in his career. If I had to compare him to someone in the UFC, it would be a guy like Mike Pyle. A tall, lanky fighter with good submissions, capable striking, and a knack for finishing fights. He could turn out to be a 2 and out fighter in the UFC, but he certainly has the tenacity and skill to possibly be a fixture in the UFC's Middleweight Division.
Statistics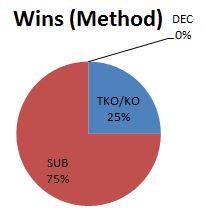 Videos
Video 1: Williams vs. Noah Faunce (2013)

Video 2: Williams vs. Lewis Rumsey (2012)

Other Links
Twitter: https://twitter.com/TimWilliams185
Sherdog Profile: http://www.sherdog.com/fighter/Tim-Williams-55756
The 2013 MMA Prospects Report