Steve Mocco : MMA Prospects Report 2013
09/20/2013
6411 Views
Heavyweight Division
#1 Prospect: Steve Mocco

[review]
Profile:
Cain Velasquez, Brock Lesnar, and Cole Konrad have all recently proven that top level wrestling is the key component to ruling the Heavyweight division. Enter Steve Mocco, a 2008 Olympian, 2-time NCAA Champion, and 4-time All-American. He's quickly racked up 3 wins on the regional circuit since debuting in 2012, and is training regularly at American Top Team. All signs point to him signing with a major promotion in 2014, which would quite possibly make him the most feared wrestler in the entire Heavyweight division.
Mocco was born and raised in New Jersey. He began wrestling in his youth and once he hit high school, there was no stopping him as he won nearly every title possible. After winning the National High School Wrestler of the Year in 2001, Mocco committed to Iowa University. Mocco, despite being a true freshman, dominated nearly everyone in the 285 lbs. Heavyweight division. He ultimately came up just one match short of winning the NCAA National title in 2002. The next year, Mocco would go on to win the NCAA Championships, though it would be the last time he wrestled for Iowa.
Mocco had pretty much proven all he needed to at the collegiate level and set his sights on the 2004 Olympics. Mocco came up short in qualifying, but instead of returning back to Iowa, he decided to join some of his fellow Olympian hopefuls at Oklahoma State University. Mocco's decision to transfer was met with some disdain from Iowa fans, but he put it all behind him and went out and dominated the Heavyweight wrestling scene in 2005, winning the NCAA Championships that included a field of Cole Konrad and Cain Velasquez. Mocco was also recognized as the 2005 Collegiate Wrestlers of the Year.
2006 signaled the final year of Mocco's NCAA eligibility. Outside of a loss to Cole Konrad, Mocco once again dominated during the regular season. Yet, in the NCAA Finals, Mocco fell short once again to Konrad. Mocco decided to try out for the football team before he left OSU. He made the team as a Defensive Lineman and played sporadically throughout his senior year.
After graduation, Mocco once again looked to make the Olympic wrestling team. He was considered an underdog to make the team, but he ended up taking a best-of-three series to claim his spot on the 2008 Olympic squad. Mocco won his first 2 matches, but he eventually came up short in the quarterfinals to the future silver medalist. Mocco returned back to the states and won a couple of prestigious wrestling tournaments before announcing his retirement later that year. He soon picked up a coaching job at Lehigh University, but after training with members of the team, he decided to give the Olympics one last shot. Mocco was unable to crack the 20212 Olympic team, finishing 3rd in the qualifiers.
Following Mocco's final attempt at wrestling glory, he has been training with UFC veteran Carmelo Marrero, and was soon called upon to help Antonio "BigFoot" Silva prepare for his fight with Cain Velasquez. After talking with the ATT coaches, Mocco decided to give MMA a shot. Mocco signed with the Resurrection Fighting Allicance (RFA) and made his official debut in 2012. He defeated fellow wrestler Tyler Perry via 2nd round submission. Mocco won another fight on the regional circuit before returning to RFA in 2013. He was originally set to to face striker James Wilson, but ended up squaring off against IFL and Bellator veteran Lew Polley. Mocco used his wrestling to thoroughly outpoint Polley and earn a unanimous decision victory.
Camp/ Country:
Mocco trains out of American Top Team in Coconut Creek, Florida. Mocco was originally brought in as a training partner for Antonio Silva, but following the camp, ATT Head Coach Ricardo Liborio, talked Mocco into giving mixed martial arts a shot. He has since become one of ATT's prized prospects and Liborio has made it a mission to transform him into a future champion. The transition has not been easy, but Mocco has been put through the fire at ATT, where he regularly gets to train alongside UFC level competition.
Career Forecast
With Brock Lesnar, Cole Konrad, and Mark Ellis recently retiring from MMA, Mocco is the only NCAA Heavyweight wrestling champion left competing. Yet, as most fans know by now, just being a world class wrestler does not equate to guaranteed MMA success. Wrestling is still a huge asset because it usually allows a fighter to dictate where the fight is going to take place, but when it comes down to it, Mocco is going to have to show that he can survive on the feet and be more than simply a lay 'n' pray artist. Mocco has thus far passed every test put in front of him, but I wouldn't consider any of his opposition at the level needed to compete in the UFC. Lew Polley was an experienced fighter with a recent win over Carmelo Marrero, but Polley's main skill was his wrestling, which was easily cancelled out by Mocco.
At this juncture, the main hurdle Mocco is facing, is father time. He already 31 years old and is getting a late start into everything MMA, from learning submissions and striking, to getting used to fighting in a cage with kicks and punches being thrown in every which way. It is a lot to overcome in such a short amount of time. We have seen the lack of striking from past wrestling champions, and I wouldn't be surprised to see Mocco struggle with these same issues. Though fighters such as Velasquez and Daniel Cormier have rounded out their games, I would venture to say that they had better overall athleticism and more passion towards learning. That is not to doubt Mocco's skills or intentions, but it seems as if he sort of stumbled upon MMA, rather than seeking it out.
Luckily, Mocco has surrounded himself with the right team and promotion to carefully mold him through these first couple years of MMA. There is no doubt that the UFC or Bellator are going to come calling soon. The question is whether Mocco will be ready to face that level of competition. Unfortunately, there is no available fight footage of Mocco's MMA fights, so based on what I saw live on HD Net and reading play-by-play, the jury is still out on whether Mocco is UFC-ready. Those that have trained with Mocco, many of whom are current UFC fighters, say he is legit and have marveled at his wrestling. I trust Ricardo Liborio's judgement in determining whether Mocco is ready for the UFC or not.
Once Liborio gives the thumbs up, the sky is the limit for Mocco. He doesn't have great size, standing right around 6'0, but he is as thick as they come. Mocco is a bear of a man and does have some decent athleticism despite not looking the part. For him to be able to walk on the Oklahoma State football team, compete in 3 different Olympics trials, and win 2 NCAA Championships, does not just happen because Mocco is simply strong. He is explosive when he needs to be, and when it comes down to it, Mocco is a gamer. He loves to compete and when he is healthy and driven to win, there might not be a fighter that can stop him.
Now, before I go overboard, Mocco still has a ways to go before even being considered as an elite MMA heavyweight. We all witnessed Cain Velaquez's struggles to the top, from being dropped multiple times by Cheick Kongo to getting knocked out by Dos Santos. This will be no walk in the park for Mocco. As mentioned, he's already 31 years old and has put his body through years of punishment to achieve what he did in wrestling. Yet, I see no reason why Mocco couldn't go into the UFC right now and beat the likes of Ben Rothwell, Matt Mitrione, Brendan Schaub and fighters of that level. The UFC Heavyweight and Light Heavyweight division are currently going through a transitional phase. Many of their perennial Top 10 fighters are past their primes and the time is right for new and hungry prospects to come and seize their spots. In the heavyweight division, Travis Browne and Stipe Miocic have jumped into the Top 10, and my gut says Mocco is capable of doing just that once he arrives in the UFC.
I do think Mocco is going to sign somewhere in 2014. He could go to Bellator today and probably win their Heavyweight championship just as Cole Konrad did, or he can take the tougher road, which is the UFC. I am not sure Mocco has what it takes to beat the likes of Cain, JDS, Cormier, etc., but if he truly wants to be considered the best in the sport, he knows where he needs to be. Mocco was never about aiming for 2nd place, so if there is anyone that is going to beat the odds of entering into a sport this late in the game and winning at the highest level, Mocco is the one.
Statistics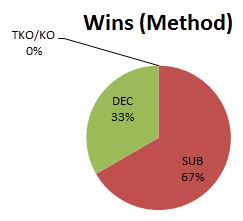 Videos
Video 1: Mocco Training at American Top Team

Video 2: Mocco vs. Cole Konrad NCAA Wrestling Championships

Other Links
Twitter: https://twitter.com/SteveMocco
Sherdog Profile: http://www.sherdog.com/fighter/Steve-Mocco-104569
The 2013 MMA Prospects Report