Steve Bosse : MMA Prospects Report 2013
09/03/2013
6104 Views
Light Heavyweight Division
#5 Prospect: Steve Bosse

Profile:
Steve Bosse was merely thought to be a brawler when he made the transition from hockey enforcer to mixed martial artists. Now, 6 years into his MMA career, Bosse has developed his overall fight game at the famed Tristar Gym and is likely on the brink of showcasing his skills in the UFC very soon.
Bosse grew up playing hockey around the Quebec area, and eventually tried to make a career of it as an enforcer in a lower-level professional league. Despite being one of the toughest players north of the border, Bosse eventually left the sport in pursuit of a MMA career.
Bosse made his debut in 2007 for the Canadian TKO promotion. He won his first 2 fights via 1st round TKO, but stumbled in his next fight against UFC veteran Icho Larenas. It was a war of a fight, but despite Bosse having Larenas badly hurt, he could not hold on and tired badly down the stretch, ultimately leading to a 3rd round TKO loss. Bosse bounced back with a submission win over TUF 10 alum Wes Sims and a 1st round TKO victory over Sebastian Gauthier.
Bosse's career started to gain some buzz, but following a bizarre No Contest with PRIDE veteran James Thompson, which resulted in various items being thrown into the cage, most MMA media declared him as more of a sideshow than anything else. Bosse eventually moved on to the Ringside MMA promotion where he won both of his fights via 1st round TKO. Bosse once again test his skills against a UFC veteran, this time facing Marvin Eastman. Bosse scored a knockdown early, but he was unable to put Eastman away, settling for a unanimous decision.
Bosse picked up a win over journeyman Mychal Clark to raise his record to 8-1 overall, but injuries soon began to take their toll. Bosse was sidelined for over a year where he finally made his return against UFC veteran Houston Alexander. Bosse stood toe-to-toe with the hard-hitting Alexander, and in the 2nd round earned the knockout finish. Bosse seemed to be on the verge of signing with the UFC, but he never got the call, and instead set his sights on Renato "Babalu" Sobral. Despite both men agreeing to the fight, it never ended up going down as Bosse and Sobral suffered various injuries throughout 2012. Bosse moved on to schedule a bout with Martin Desilets, but Desilets went down with a should injury forcing a last minute replacement in Caleb Grummet. Bosse showed off some improved grappling and conditioning as he finished the bout via 1st round TKO. Bosse was scheduled to face UFC veteran Victor Valimaki in 2013, but Bosse suffered an injury leading up to the bout.
Camp/ Country:
Bosse now trains at the Canadian powerhouse Tristar gym, which is famously home to stars Georges St.Pierre and Rory MacDonald. Bosse previously trained under Mark Colangelo and was also a member of Brazilian Top Team Canada. Bosse is rumored to be considering a move to Middleweight, and it is obvious from recent footage that he seems to be in much better physical shape than at any time in his career. Bosse's grappling and wrestling also look to be revamped. Bosse always had power in his hands, but it also looks as if his technique and footwork have improved.
Career Forecast
So, why hasn't Steve Bosse been signed by the UFC by now? It's an interesting question, considering the UFC is always in search of MMA talent north of the border. Bosse is an exciting fighter that is always looking for the knockout, and with the lack of elite level Light Heavyweight talent, he figured to be a lock to be signed following his KO win over Houston Alexander. Yet, maybe there's something we don't know about Bosse. He's never fought out of Quebec, which is a bit bizarre. Now that Bosse has joined forced with Tristar, the odds are high that Bosse will somehow land in the UFC or Bellator in 2014.
Bosse just turned 32, so he's no spring chicken at this point. He does possess above average athleticism for his weight class and he looks to be in the best shape of his career. There were times that Bosse was fighting catchweights against Heavyweights, but now it looks as if a move down to Middleweight could be in his future. There are some decent tests in Canada for Bosse, like Desilets or Valimaki, but at this point, these are lose-lose situations for him after knocking out Alexander in 2011.
Bosse has excellent power in his hands. He also has an iron chin, which forgives his knack for keeping his chin too high. Bosse is usually the aggressor in his fights. He has paced himself a bit more lately, but make no mistake, if Bosse sees an opening, he will look to take your head off. Bosse's wrestling looked much improved during his fight with Alexander, routinely taking Alexander down to the floor. It's still not where Bosse wants to be, but he has proven that he can go there and be somewhat effective. His submission defense has improved as well and has worked his way up to a purple belt in BJJ.
Bosse used to struggle mightily with his conditioning. His lone loss was purely due to him tiring down the stretch. His wrestling also used to be atrocious, but as stated earlier, he has nearly come full circle in that area. Bosse's weaknesses are being masked thanks to the high level training he's receiving at Tristar.
Bosse will need to leave the Quebec scene in order to gain more credence from the top promotions. He's had his time to shine in his hometown, and despite a 10-1 record, it just hasn't led to the type of hype he should be receiving at this point in time. Leaving Quebec is quite a risk for Bosse at this point in his career, but it's now or never on whether he makes it to the UFC.
Should Bosse finally sign with the UFC, he clearly has the potential to earn a few Knockout of the Night awards. He is still a brawler by heart and will likely struggle with consistency at the UFC level, but make no mistake, he has the skills right now to compete with the bottom half of the UFC Light Heavyweight roster. In the best case scenario, he finds similar success to heavy hitters James Te Huna and Ryan Jimmo, but more than likely he'll fair more closer to the likes of Joey Beltran or Fabio Maldonado. As we all know though, in the heavier weight classes, all it takes is one good shot, for a fight to be over, and Bosse has that one-punch knockout power. The UFC Light Heavyweight division is perilously thin, and Bosse could bring some new excitement to the division in 2014.
Statistics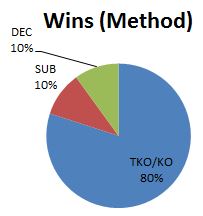 Videos
Video 1: Bosse vs. Houston Alexander (2011)

Video 2: Bosse vs. Caleb Grummet (2013)

Other Links
Twitter: None
Sherdog Profile: http://www.sherdog.com/fighter/Steve-Bosse-22732
The 2013 MMA Prospects Report