Sean Strickland : MMA Prospects Report 2013
08/12/2013
6485 Views
Middleweight Division
#10 Prospect: Sean Strickland

Profile:
Sean Strickland is currently the reigning King of the Cage Middleweight Champion. At just 21 years of age with a 12-0 undefeated record, Strickland looks primed to be moving up to the UFC or Bellator in the very near future.
Strickland's athletic background is a bit of a mystery. He said he started training around 14 years old with his base being in wrestling and Jiu-Jitsu. Sporting long hair that earned him the nickname, "Tarzan," Strickland made his official MMA debut in 2008. He competed primarily for the King of the Cage promotion, where he built his record to an impressive 7-0 with 6 of those wins coming via finish.
In 2011, Strickland finally started to raise his competition level as he was set to face KOTC Middleweight Champion Brandon Hunt. Strickland earned the 1st round TKO victory, though the fight ended up being declared a non-title fight due to Strickland missing weight. A few months later, Strickland once again vied for the title, this time successfully making weight and once again pounding out Hunt via 1st round TKO.
Strickland suffered a foot injury during training and was sidelined for the latter half of 2012. During that time, TUF 11 alumni Josh Bryant had claimed the interim KOTC Middleweight title. Strickland looked to unify the titles upon his return and finally gain some notoriety for facing a UFC veteran. Bryant ended up missing weight, so there would be no unification of the titles. Nonetheless, Strickland was able to rally in the final 2 rounds to take home a split decision victory.
Strickland has since defeated Bill Albrecht and Yusuke Sakashita in 2013. He is tentatively scheduled to face Daniel Hernandez on August 29th.
Camp/ Country:
Strickland trains out of CQuence Jiu-Jitsu in California. Most of the fighters coming out of the gym are regarded as journeyman types, mainly competing on regional fight cards or KOTC events. His training environment is a big question mark on whether he will be able to make it at the next level. As of now, CQuence JJ seems to have no contacts to any major promotion.
Career Forecast
Sean Strickland is one of those newer generation types of fighters that we keep hearing about. He started training at a young age and is very well-rounded in all areas. It is no fluke that he is beating opposition that are 10 years his elder.
Strickland is not a freak athlete by any means, but he is quick and explosive when he needs to be. Something that really jumped out to me on tape were his finishing skills. He has a keen sense for knowing when to go in for the kill. He showcases above-average awareness and speed during most of his fights and moves very light on his feet for a Middleweight. He is a good wrestler with solid grappling skills, though I wouldn't term him elite in either area. He is also a hard worker, and his conditioning and athleticism have been key components in finding success at such a young age.
The main concerns I have with Strickland are his current training environment and his lack of overalls striking. Strickland's standup is a bit stiff and he routinely drops his hands when throwing strikes. His quickness has made up for it thus far, but he really needs to learn the nuances of getting in and out with his striking exchanges. He's only 21 years old, so he has time to improve, but it's almost about that time where he really needs to sit down and determine whether his current training camp is going to provide him with the world class instruction and training partners needed for when he reaches the UFC or Bellator level.
Strickland likely would have ranked higher in this Report, but there is still some significant risk on whether he is going to be able to make it to the next level with his current skill set. His age can somewhat be a double-edged sword. We recently saw a fighter like Dustin Jacoby, make it to the UFC at 24 years old, and despite being a solid prospect, he washed out after just 2 fights. If Strickland were to sign with the UFC in the near future, I fear he would suffer a similar fate, especially considering his current training environment. The best case scenario for Strickland is for him to continue and hone his craft in King of the Cage and hopefully build his record to around 15-0 overall. At that point, he would be an ideal fit for The Ultimate Fighter, which could provide him with some world class training and basically open up his eyes up to the realities of what it will take to make it at the next level.
Strickland reminds me a bit of Luke Rockhold in regards to his overall skills, style, and attitude. Strickland is not short on confidence based off his past interviews. He seems to have a strong drive to not only make it in the UFC, but to one day become a contender. He has good size, speed, and instincts to hopefully one day follow through with that belief.
Statistics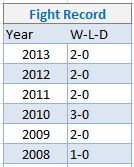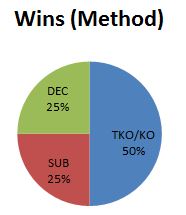 Videos
Video 1: Strickland vs. Brandon Hunt (2012)

Video 2: Strickland vs. George Interiano (2010)

Other Links
Twitter: None
Sherdog Profile: http://www.sherdog.com/fighter/Sean-Strickland-30452
The 2013 MMA Prospects Report