Ricardo Abreu : MMA Prospects Report 2013
08/16/2013
7278 Views
Middleweight Division
#6 Prospect: Ricardo Abreu

Profile:
The UFC recently signed BJJ phenoms Robert Drysdale and Antonio Braga Neto, and don't be surprised if Ricardo Abreu is not too far behind.
Abreu was born in Sao Paulo, Brazil and began training BJJ in his youth. Abreu worked his way up the ranks and was soon aligned with the Brazilian BJJ powerhouse team at Nova Uniao. Unfortunately, Abreu struggled to find sponsors and eventually left the sport for 3 years.
Abreu eventually returned in 2009 and quickly resumed where he left off, earning 2nd place honors at the BJJ World Championships. He struggled with injuries for much of 2009 and 2010 before ultimately deciding to test his skills in mixed martial arts.
Abreu began working with the stars of Black House and soon became Tito Ortiz's personal BJJ coach. Abreu soon signed a deal with Ortiz's management company and has since fought 4 times since his 2011 debut. Abreu finished each of his opponents in the 1st round though it should be mentioned that his competition level was extremely lacking.
Camp/ Country:
Abreu has trained alongside some of the best fighters in the sport. He first received world class BJJ instruction at Nova Uniao before training alongside the elite at Black House. Abreu has since settled in at Team Punishment as Tito Ortiz looks to provide Abreu with the guidance needed to make it to the next level. Ortiz's recent affiliation with Bellator may make it difficult for Abreu to sign with the UFC.
Abreu has kept busy by competing in BJJ tournaments and also instructing pros in BJJ, including Michael Bisping for his his fight with Vitor Belfort.
Career Forecast
Ricardo Abreu still has a bit to prove on whether he is going to be a real player at the next level. Like most prospects starting out in the sport, he's faced lower level guys, evidenced by the collective 1-10 record of his opponents. I'm not saying his management should throw him to the wolves just yet, but he made his MMA debut 2 years ago and has yet to even face an opponent with a winning record.
In the meantime, Abreu is training with a host of UFC stars that have included the likes of Anderson Silva, Michael Bisping, and Tito Ortiz. They have all sung his praises as a BJJ phenom, but we all know that no matter how talented a fighter is in one area that sometimes does not transfer over to MMA. Roger Gracie was just let go from the UFC, which should emphasize the fact that if an elite level BJJ athlete does not make himself well-rounded like Demian Maian and Ronaldo "Jacare" Souza have done, they might as well stay in BJJ. Abreu seems somewhat committed despite his lack of progression over the last couple of years. He has signed with Tito Ortiz's management company and all signs point to him making this a full-time career.
Abreu has some decent striking based on what I saw on film. He has decent power in his hands and seemed comfortable throwing leg kicks. He is a bit lumbering with his movement, but he is usually just using his striking to set up his takedowns. Once the fight goes to the floor it is game over. Abreu's BJJ game is one of the most dangerous submission grapplers in the sport. He didn't just win BJJ tournaments on points. He was known for his high submission rate and was one of the most feared, risk takers on the mats.
Abreu's size is a concern. He is listed at 6'0, but he has also been announced as being 5'10. He's not quite Rousimar Palhares short, but his lack of reach is going to hurt him with his takedown ability. Abreu is aggressive, but that type of style is going to lead to him gassing out. Once Abreu faces an opponent with some type of decent experience it will be much easier to assess his future success.
As mentioned, Abreu's manager Tito Ortiz, has likely burned his bridges with the UFC for the time being. Bellator could be a perfect landing spot for Abreu. He wouldn't have to face stiff competition right out of the gate and could truly become a contender there if matched correctly.
Statistics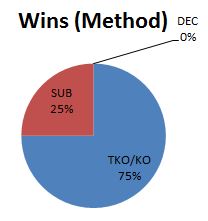 Videos
Video 1: Abreu vs. Marcos Wilson (2013)

Video 2: Abreu vs. Jimmy Quinlan (BJJ match)

Other Links
Twitter: https://twitter.com/atletaricardo
Sherdog Profile: http://www.sherdog.com/fighter/Ricardo-Abreu-82392
The 2013 MMA Prospects Report