Ramazan Emeev : MMA Prospects Report 2013
08/20/2013
6976 Views
Middleweight Division
#4 Prospect: Ramazan Emeev

Profile:
Ramazan Emeev is the reigning M-1 Middleweight champion after defeating UFC veteran Mario Miranda in 2012. He is currently riding an 8-fight win streak and looks to be one one the top emerging talents from Eastern Europe.
Emeev is listed as being from Azerbaijan. It was difficult to uncover information surrounding Emeev's martial arts background, so all I really have to go off is his fight history, which luckily is readily available on YouTube. Emeev made his MMA debut in 2009 as a Welterweight. He struggled out of the gates, going 3-2 overall, though he did face some fairly tough fighters during that stretch. Emeev soon moved up to Middleweight where he has gone unbeaten ever since. He won his final 3 fights in the ProFC promotion before signing with M-1 in 2011.
Emeev won his first 3 fights in the M-1 promotion, which ultimately earned him a shot at the M-1 Middleweight title. Emeev was matched up against UFC veteran Mario Miranda, who had just submitted Russian prospect Arthur Geseinov. Emeev and Miranda battled it out for 5 close rounds that ultimately ended with Emeev's hand raised.
Due to the closeness of their first fight, M-1 booked a rematch between Emeev and Miranda. Emeev was able to land the crisper strikes early, but Miranda hung tough. With the fight once again looking like it would come down to the judges, Emeev struck with a heavy right hand that dropped Miranda to the floor. Miranda tried to get back to his feet, but Emeev poured on the pressure and earned the referee stoppage.
Camp/ Country:
Emeev is listed by Sherdog as being a member of Gorec, which houses M-1 stars Rashid Magomedov and Magomed Sultanakhmedov. Yet, from all of the articles I could find, they all seemed to say he was a part of Team Highlander, which is another feeder for M-1 fighters like Heavyweight Magomed Malikov. His latest fight with Miranda clearly stated he was a part of Gorec, so either Emeev made a move recently or he possibly trains at both locations. Regardless, Highlander and Gorec are considered solid training grounds in the region, though neither seems to have any connections to the UFC or Bellator.
Career Forecast
Ramazan Emeev looks to be just entering his prime as a fighter. He shares a ton of similarities with his teammate and fellow M-1 champion Rashid Magomedov. They are both well-rounded with excellent grappling and striking. The one noticeable difference though is Emeev's punching power. Over his last 3 fights, he has really turned a corner regarding his striking.
Emeev's back-to-back wins over Miranda are truly a sign that Emeev is ready for an opportunity against the world's best. Miranda was once considered to be one of the top prospects in the world following wins over Rick Story, Joe Vedepo, and Mike Hayes. He only went 1-3 in the UFC, but only lost because his wrestling wasn't up to par. That's what makes Emeev's wins all the more impressive in that he never really used his grappling to beat Miranda.
Emeev has showed off a power-packed right hand while also using kicks and knees. His takedown defense has looked superb as does his overall grappling. What makes Emeev so impressive is his quickness, accuracy, and adaptability. He is very light on his feet and on the ground he is ultra-swift with his transitions and reversals. He moves more like a Welterweight, which probably leads to my only main concern regarding Emeev's future success at Middleweight.
Emeev is only 5'11 and does not seem to cut much weight. Miranda was considered to be a huge Middleweight at 6'3, but he did not have the high level wrestling that some of the elite in the UFC possess. I fear that Emeev will likely struggle against some of the top grapplers in the division. A move to Welterweight would likely be the optimal division for Emeev should he sign with the UFC or Bellator. The likelihood of Emeev signing with either promotion is slim at the moment due to his affiliation with M-1, especially considering Emeev is their reigning champion. M-1 has recently gotten into public spats concerning Vinny Magalhaes and Vyacheslav Vasilevsky.
Emeev's style is very chameleon-like. He can win fights striking or grappling. If I had to compare him to someone in the UFC, it would be Gegard Mousasi. Both are talented strikers that somehow create the perfect blend of finesse, accuracy, quickness, and brutal power. If Emeev chose to fight at Welterweight I could truly see him project to be a Top 15 Welterweight, but at 185, I don't think Emeev has the size to enter elite territory. Hopefully, Emeev will one day get to show off his skills stateside because he certainly has the talent to compete in the UFC.
Statistics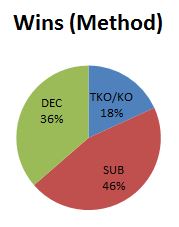 Videos
Video 1: Emeev vs. Mario Miranda II (2013)

Video 2: Emeev vs. Albert Duraev (2012)

Other Links
Twitter: None
Sherdog Profile: http://www.sherdog.com/fighter/Ramazan-Emeev-72356
The 2013 MMA Prospects Report