Myung Ho Bae : MMA Prospects Report 2013
08/01/2013
7468 Views
Welterweight Division
#7 Prospect: Myung Ho Bae

Profile:
Myung Ho Bae is the reigning Legend FC Welterweight champion. He was also offered a UFC contract in 2012, but was forced to turn it down due to his Legacy FC contract. This has obviously left Bae very upset and with military obligations keeping him home until 2015, the window could be closing on Bae's opportunity to fight stateside.
Not much is known about Bae's athletic background prior to entering mixed martial arts. I was able to find out that he played baseball growing up, but he never made it to the professional ranks. When he was 17 years old, his brother passed away, which ultimately fueled his desire to enter MMA. Bae started his career as a Middleweight, but struggled out of the gates to a 1-3 record.
Bae soon dropped the extra 15 pounds and upon his return as a Welterweight, he started racking up wins, 6 overall, before losing a close majority decision to Fabio Nascimento. Bae bounced back with a win in the DEEP organization and was soon offered a fight with former DREAM champion Marius Zaromskis on just 10 day's notice. Bae accepted the fight, but he was knocked out via head kick in the opening seconds of their bout.
Bae never fought for DREAM again, but soon signed with Legend FC. He fought exclusively for them over the next 3 years, going 5-0 overall, and winning their Welterweight championship. In 2012, he was offered a UFC contract as the UFC was about to put on their first ever show in Macau. Legend FC claimed they had contractual rights that prohibited Bae from leaving their promotion, and ultimately put a stop to the UFC's pursuit of Bae.
Bae struggled with injuries for much of 2012, and also did little to hide the facts behind his fractured relationship with Legacy FC. Bae's career took another curveball as he was obligated to serve in the military until 2015. Since he was was obligated to stay in South Korea, Legacy FC allowed Bae to fight temporarily for the Korean-based Road FC promotion. In Bae's 2013 Road FC debut he faced DREAM veteran and Vitor Belfort understudy Andrews Nakahara. It was a close fight throughout, and though most people had it being scored for Bae, the fight was ruled a draw. There has been no timetable set for Bae's next fight.
Camp/ Country:
Bae trains out of Busan Team M.A.D, which is truly turning into one of the premier camps in all of South Korea. Thus far Dong Hyun Kim and Kyung Ho Kang are their lone UFC representatives, but they also have Sang Soo Lee, Nam Jin Jo, and Hae Jun Yang as a part of their stable.
Career Forecast
Myung Ho Bae was forced to experience a prospect's worst nightmare, which is for the regional show they are competing in to deny their ability to sign with the UFC. Though it rarely happens, there have been recent evidences of this happening with Darren Uyenoyama and Yoislandy Izquierdo. In addition, now that Bae's military requirements kicked in, it looks as if he's going to be locked down in Legend FC for the next couple of years. Bae has to hope that Legend FC will eventually look to crown an interim Welterweight champion and let him out of his contract, but we have seen promotions like Legend FC and One FC become very protective over their fighters.
Moving on to Bae's actual skill set, he is a very skilled grappler and fights a similar style to that of his teammate and UFC contender Dong Hyun Kim. Bae's finishing percentage is pretty much non-existent, but that doesn't mean he is not effective at what he does. He has a very suffocating style of grappling, and is adept at draining the will out of his opponents. His striking has improved dramatically over the last couple of years as well. He is still sloppy with his technique, but his overall timing and footwork is much better, evidenced by his willingness to exchange strikes with Andrews Nakahara. Bae likes to push the pace, and that style combined with his excellent cardio makes him a very difficult fighter to beat.
Bae's weaknesses still revolve around his overall striking. He still sits in front of his opponents way too long and against a skilled striker, he's going to get his head taken off, a la his Zaromskis fight. Bae lunges with a lot of his punches as well, which leaves him wide open for counters. He does the same thing with many of his takedown attempts, which should eventually lead to him getting hit with a huge knee. His gritty, hard-nosed demeanor makes up for some of these mistakes, but he will eventually run into more seasoned competition that will take advantage of these openings.
Bae has also drawn some fandom for being a bit of a sparkplug in the MMA media. He has done some modeling as well, which as we have seen, did wonders for Yoshihiro Akiyama's popularity. Bae has an edge about him that could translate well should he be able move on to the UFC.
Regarding Bae's success had he signed with the UFC, I could have envisioned him holding his own with the bottom half of the UFC's Welterweight roster. I think he would struggle against some of the better strikers and wrestlers, but based off the recent success of Dong Hyun Kim, Bae has a chance to be a real player in the UFC if he can somehow break free of his Legacy FC contract.
Statistics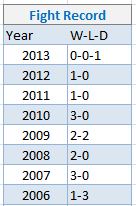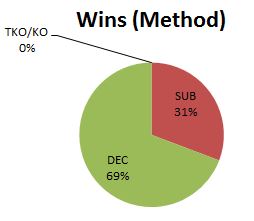 Videos
Video 1: Bae vs. Andrews Nakahara (2013)

Video 2: Bae Highlights

Other Links
Twitter: None
Sherdog Profile: http://www.sherdog.com/fighter/Myung-Ho-Bae-15046
The 2013 MMA Prospects Report