Mike Rhodes : MMA Prospects Report 2013
07/31/2013
7717 Views
Welterweight Division
#8 Prospect: Mike Rhodes

Profile:
Mike "Biggie" Rhodes had no plans of being a mixed martial artist growing up. He simply wanted to get his degree and play basketball at a 4-year college. Yet, as fate would have it, Rhodes was unable to secure a scholarship and ended up joining a local kickboxing gym to get in shape. Those early workouts soon changed his life as Rhodes began to fall in love with the sport of MMA.
Rhodes grew up in a rough neighborhood. Luckily, he had a knack for basketball, and that combined with his good grades allowed him to get his degree at Northern Iowa University. Rhodes began training in MMA while in school, but upon graduation moved full-time to Roufusport.
Rhodes began his amateur career in 2011 as a Heavyweight. He slowly dropped the pounds and by the time he made his pro debut a year later, he was down to 185 lbs. Rhodes won his first 2 fights at Middleweight before dropping down to his current weight class of 170 lbs. Rhodes won his next 2 fights via finish, improving his overall record to 4-0. His first true test came in the blink of an eye as signed on with the Resurrection Fighting Alliance (RFA) as a last minute replacement to face top-level prospect Brandon Thatch.
Thatch was on the verge of signing with the UFC heading into their bout, while Rhodes was still trying to get his feet wet in the sport. It showed come fight night as Thatch was able to submit Rhodes in just under 3 minutes. It wasn't a complete loss for Rhodes though as he showed some brief fortitude early in their fight and seemed unafraid to engage with Thatch.
Despite the loss, Rhodes was now a part of RFA's roster, which is considered to be one of the top feeder leagues into the UFC. Rhodes made his return to the RFA cage a few months later, finishing fellow prospect Benjamin Smith via 1st round TKO.
Camp/ Country:
Rhodes trains out of Roufusport, home to some of the top MMA fighters in the sport such as Anthony Pettis, Ben Askren, Erik Koch, and Alan Belcher. Rhodes has talked about the daily improvements he has made training wrestling with Askren and striking with the likes of Koch and Pettis.
Head coach Duke Roufus has made it known that he believes Rhodes is ready for bigger and better things at this point in his career. Placing him in a fight with Thatch was a calculated risk they were willing to take because it not only got Rhodes on the radar of MMA media and fans, but it gave them a chance to see what improvements Rhodes still needs to make in order to get to Thatch's level of fighting.
Career Forecast
Mike Rhodes showed a lot of promise based off the available fight footage I could find. He has great size (6'0), movement, and overall power in his hands. The fact that he trains out of Roufusport only enhances his prospect status. At just 23 years old, Rhodes still has time on his side to get the training he needs to hopefully one day compete at the UFC level.
Rhodes is a former heavyweight, but don't let that fool you, he is quite light on his feet for a former big man. He also has power in his hands and his reach is a huge asset in creating the necessary distance for controlling the pace. Rhodes' wrestling has continued to improve in recent months ever since Askren's recent arrival to Roufusport. Prior to getting swept and submitted by Thatch, Rhodes was the one who scored with the takedown. He may not have elite level wrestling, but he has just enough to make his opponents worry about the possible threat.
Rhodes' big question marks come down to his lack of grappling and experience. Rhodes is still quite green despite a 6-2 amateur career, and a 5-1 pro record. He is still in a way testing the waters in what type of fighter he wants to be. He seems to prefer looking for the knockout, but he is slowly starting to add some tools to his repertoire, which has made a more well-rounded fighter. Rhodes' grappling still needs work. From what available footage I was able to find, he struggles off his back and that gives me concern knowing that he does not have the pedigree of some college level wrestlers or Jiu-Jitsu fighters. Rhodes has thus far gotten by with what he's learned on the fly at Roufusport and his overall athleticism. I'm not sure if that's going to be enough to carry him once he reaches the UFC or Bellator, so he needs to truly dedicate himself towards working on his ground game.
I think Rhodes has a solid chance at one day signing with the UFC and winning fights. If he can improve his explosiveness and overall killer instinct, Rhodes can be a beast. He still has a ways to go, but he certainly has the potential to make it.
Statistics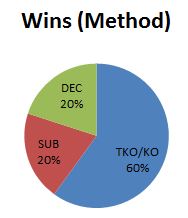 Videos
Video 1: Rhodes vs. Zak Ottow (2012)

Video 2: Rhodes Interview

Other Links
Twitter: None
Sherdog Profile: http://www.sherdog.com/fighter/Mike-Rhodes-87296
The 2013 MMA Prospects Report