Michal Materla : MMA Prospects Report 2013
08/21/2013
7638 Views
Middleweight Division
#3 Prospect: Michal Materla

Profile:
Michal Materla is the reigning KSW Middleweight Champion and with a 19-3 record with 4 straight wins over UFC veterans, the time seems ripe to test his skills in the UFC or Bellator.
Materla began his MMA career in 2003, competing on local Polish regional cards where he quickly built his record to 8-0 overall. At just 21 years old, Materla decided it was time to test his skills against one of the most dangerous strikers in the sport, Evangelista "Cyborg" Santos. Materla traveled to Brazil and met Santos at Jungle Fights 5. Materla showed a ton of heart as he absorbed some brutal shots from Santos, but he simply could not defend himself against Santos' Chute Boxe-style. Materla returned 6 months later against Moise Rimbon, but suffered a decision loss, dropping his record to 8-2.
Materla redeemed his prospect status by competing in KSW's 8-man, 1-night tournament. Materla defeated all 3 of his opponents via submission to impressively win the tournament and cement his status as one of Poland's top MMA fighters. Materla looked to duplicate his feat just 1 year later as he entered KSW's next 8-man, 1-night tournament. Materla won his 1st round matchup, but ended up losing a close decision to eventual winner Antonio Mendes.
Materla would struggle with injuries that kept him sidelined for nearly 2 years. He briefly returned in 2009 to win a fight via submission before once again going back on the shelf for more than 2 years. From 2007-2011, Materla only fought once.
In 2011, Materla returned to KSW full force. He defeated Gregory Babene and James Zikic within 2 months of his return. Materla moved on to face UFC veteran Matt Horwich in a title eliminator fight, winning a close decision that required an overtime period. Materla was eventually pitted against UFC veteran Jay Silva for the vacant KSW Middleweight Championship. Materla looked to be injured as he knee buckled following a kick from Silva. Materla battled through adversity as he battled back to win via decision.
Materla has since defended his title twice, knocking out UFC veteran Rodney Wallace and winning a controversial decision over TUF 3 winner Kendall Grove. Materla's win over Grove required an extra overtime period though many onlookers had the fight going to Grove during the initial 3-round period. Materla is set to defend his title for a 3rd time later this year at KSW 24.
Camp/ Country:
Materla trains out the Berserkers Team, which is home to many of Poland's top fighters like Maciej Jewtuszko, Rafal Moks, and Karol Bedorf. The camp hasn't found much luck sending their fighters stateside though Jewtuszko did have a short stint in the WEC and UFC. That's not to say some of their fighters don't have the talent to fight in the UFC or Bellator, it's just that many prefer to stay in Poland and fight under the KSW banner.
The UFC is rumored to be visiting Poland in 2014, but considering Materla is the KSW Middleweight Champion, it's highly unlikely they would release him from his contract.
Career Forecast
Michael Materla has one of the most impressive resumes amongst any Middleweight prospect. His last 4 wins have all come against UFC veterans and his only losses have been hard fought efforts to big show veterans. Unfortunately, Materla is starting to suffer the same fate that has plagued Mamed Khalidov's career. Both fight somewhat in anonymity, and even though KSW is considered the main MMA show in Poland, it has failed to catch on worldwide. KSW has made a strong effort to find Materla and Khalidov challenges, but they have likely come a point where they must know that the only challenges remained belong in the UFC.
Materla has a much different style of fighting compared to Khalidov. Materla is aggressive on his feet, but he is much more apt to initiate clinches and try to bring the fight to the floor. His ground game is good, though not elite by any means. His main weapon is a guillotine that he will attempt often while in the clinch or during transitions. Materla's wrestling has improved over the years, but it still pales in comparison to the upper half of the UFC's Middleweight Division. Materla is very crafty though, and he is very calculated with his movements and always seems to get himself out of dangerous positions.
Materla has an excellent chin, and he has been forced to use it throughout his career as his striking developed. Though Materla lost to Evangelista "Cyborg" Santos back in 2005, it was a true testament for the amount of punishment Materla is able to take. That toughness has helped him grind out victories and persevere through injuries. Materla is still a bit of a brawler, though he has become more calculated with his overall defense. He has a big right hand and uses it often. He also attacks with knees, but make no mistake about it, Materla would still rather contest most of his fights on the ground in top position.
Materla's success at the upper levels of MMA will most likely come down to his wrestling. Materla will find it hard to finish his opponents at the UFC level. His overall skill set is somewhat reliant on him being the better conditioned, tougher fighter that can basically break his opponent's will. If I had to compare him to someone in the UFC today, it would probably be Andrew Craig or Dylan Andrews. Both are examples of fighters that have been able to win fights due to their toughness and heart, rather than their overall technical skills. Materla is technically sound, he just wasn't blessed with elite athleticism and has fought through his fair share of injuries over the years.
Nonetheless, if Materla were able to sign with the UFC, I could see him achieving Top 30 status. His best chance at reaching success stateside would probably be by signing with Bellator where he could easily be an immediate title contender for Alexander Shlemenko.
Statistics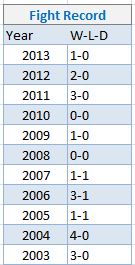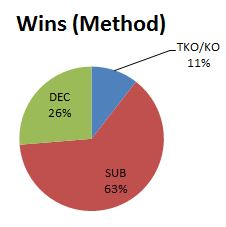 Videos
Video 1: Materla vs. Rodney Wallace (2012)

Video 2: Materla Highlights

Other Links
Twitter: None
Sherdog Profile: http://www.sherdog.com/fighter/Michal-Materla-10397
The 2013 MMA Prospects Report