Max Nunes : MMA Prospects Report 2013
08/28/2013
7423 Views
Light Heavyweight Division
#8 Prospect: Max Nunes

Profile:
Max Nunes looks to be on his way to joining countryman Alexander Gustafsson in the UFC. Nunes is 11-0 overall and has finished every opponent placed in front him. Nunes is currently training out of London, England, and has quickly established himself as one of the top Light Heavyweight prospects in Europe.
Nunes never grew up practicing mixed martial arts, but after stumbling upon a local fight gym in Sweden, he quickly became hooked. In 2009, Nunes decided to pack his bags and join UFC veteran Nick Osipczak at the upstart New Wave Academy in London. Nunes went 1-1 as an amateur before turning pro in 2010.
Nunes shot out of the gates with 5 straight 1st round finishes. Following 1 more win on the regional circuit, Nunes signed with the BAMMA promotion. Nunes began to face stiffer competition, but the results were the same as he won his next 3 fights, including a TKO victory over fellow prospect Marcin Lazarz. Nunes extended his win streak to 11 with a 1st round TKO at another regional event and is now set to face his biggest test to date in Golden Glory's Jason Jones at BAMMA 13 in September.
Camp/ Country:
Nunes trains out of the New Wave Academy based in London, England. He used to train often with UFC veteran Nick Ospiczak, but Osipczak has since left to travel around the world. The remaining members of New Wave are up and coming fighters, but not nearly the level of training partners Max will need to get him to the next level. Nunes will have to thoroughly assess his current training situation and ultimately determine if it is providing the quality of training needed to get him to the next level.
Nunes is originally from Stockholm, Sweden, but has chosen to train and fight in England. It's a bit of a curious move considering the recent explosion of popularity in Swedish MMA. Though Nunes is fighting in a well known promotion in BAMMA, it remains to be seen whether his camp will have the connections to get him to the UFC.
Career Forecast
Max Nunes looks to have a decent amount of potential that could one day translate into success at the UFC level. As of now, Nunes just isn't ready to face elite level competition. His wrestling is nowhere close to being at the UFC level, and though he has great physical tools and a knack for finishing fights, I just don't see him having the overall skill as of yet to confidently predict him even holding his own against the bottom half of the UFC's Light Heavyweight roster. That being said, Nunes is only 24 years old and is just hitting the tip of the iceberg as far his potential goes.
Nunes has some respectable striking. He has a solid repertoire of kicks and decent power in his hands. His athleticism shines through with his footwork, movement, and speed. Nunes does have that extra gear, that when called upon makes him a very dangerous fighter. He has excellent finishing skills, and can really whip out a high volume of punches when he senses his opponent is hurt. Though Nunes' takedown defense is lacking, he does do a good job of getting back to his feet and has proven to be somewhat capable of defending the submission.
The main issues I have with Nunes at this time are his wrestling and current training environment. We have seen time and time again that iron sharpens iron. As of now, Nunes does not have that luxury at his camp. He will likely be forced to learn the hard way that having a gym with experience in getting their athletes to the next level is invaluable. Nunes currently struggles with his wrestling, and it is well known that England has continually struggled in this area. Usually when you see a 24-year old prospect with an 11-0 record, all coming via finish, you start thinking of the next UFC star, but my expectations are tempered with Nunes.
One thing I cannot dispute is that Nunes has the raw size and physical gifts to be a beast at 205 lbs. Yet, does he have the right trainers to mold those traits into a future UFC contender? I do look at Jimi Manuwa, who has recently gained some hype in the UFC despite a similar training situation in England, and wonder if Nunes can not only duplicate that success, but ultimately supersede. After all, Nunes is 9 years younger than Manuwa and has time on his size in shoring up his overall game.
Overall, Nunes is one of the most intriguing prospects I came across. His size and finishing skills really could make him a fighter that could one day be a future contender in the UFC. A safer comparison though is possibly closer  to a Middleweight Francis Carmont. Carmont was an excellent finisher outside of the UFC, but he has found it harder to finish at the UFC level. His physical skills and well-rounded attack ultimately make him capable of winning fights, but he will likely fall just short of reaching Top 15 status. In 2-3 years, I could see Nunes winning fights just as Carmont has, but he will not find it so easy to dominate his competition, which is why I find it so imperative that Nunes align himself with a seasoned camp that has a track record of developing their prospects into future UFC contenders. If Nunes can potentially move stateside as Gustafsson has done at Team Alliance, the UFC may have found their next Swedish MMA star.
Statistics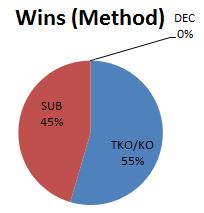 Videos
Video 1: Nunes vs. Kevin Thompson (2012)

Video 2: Nunes vs. Marcin Lazarz (2013)

Other Links
Twitter: https://twitter.com/maxpowernunes
Sherdog Profile: http://www.sherdog.com/fighter/Max-Nunes-60957
The 2013 MMA Prospects Report