Mamed Khalidov : MMA Prospects Report 2013
08/23/2013
8392 Views
Middleweight Division
#1 Prospect: Mamed Khalidov

Profile:
Mamed Khalidov has long been considered one of the top Middleweights never to have stepped foot inside the octagon. Khalidov has found a home in Poland's KSW organization, and seems content to finish his career there. The UFC has attempted to sign Khalidov on numerous occasions, but has thus far been rebuffed.
Khalidov was born in Chechnya, which has been plagued by warfare for as long as anyone can remember. At the urging of his parents, Khalidov soon traveled to Poland as a teenager in order to study abroad in Poland. In 2003, a local MMA gym opened up and Khalidov began training in mixed martial arts. Just a few months later, Khalidov made his pro debut in the Shooto promotion. Khalidov struggled out of the gates, going 3-3 overall, admitting afterwards that he was not prepared to compete at that level. Khalidov continued to train and soon used those early losses as learning lessons as he won his next 8 fights, all coming via finish.
Khalidov was soon discovered by the promoters of KSW and was signed to their promotion in 2007. He won his first 5 fights with the promotion while also scoring a 1st round submission win over future UFC veteran Igor Pokrajac at another regional event. KSW began heavily promoting Khalidov as their headlining attraction, but just as he seemed to be on the verge of stardom, he struggled to a Draw with future Bellator veteran Daniel Tabera. Khalidov bounced back by winning his lone appearance stateside, defeating journeyman Jason Guida in the ShoXC promotion.
Khalidov's next fight was for KSW's Light Heavyweight Championship as he easily defeated PRIDE veteran Daniel Acacio via 1st round TKO. In a bit of a surprise move, Khalidov was allowed to compete in Japan's Sengoku promotion, where he was immediately matched up against their Middleweight Champion Jorge Santiago.  Though the title was not on the line, Khalidov reigned supreme as he scored a stunning hammerfist strike from his back that dazed Santiago and led to the finish. Santiago would get his revenge just one fight later as the title was on the line in a 5-round affair. Khalidov looked to be on his way to victory, but he faded badly down the stretch, ultimately losing via decision.
Khalidov returned back to KSW where he was set to defend his KSW Light Heavyweight title for the first time. Though most expected a quick finish for Khalidov, battle-tested challenger Ryuta Sakurai gave him all he could handle, once again taking advantage of a fatigued Khalidov to arguably win the decision. Yet, in a highly questionable decision by the judges, the fight was deemed a Draw. It would be the last time Khalidov would compete at Light Heavyweight as he vacated the KSW title and officially moved down to Middleweight.
Khalidov competed once more for Sengoku, defeating Yuki Sasaki via 1st round TKO, and has since competed exclusively for KSW. KSW has valiantly tried to feed Khalidov former UFC and PRIDE veterans to prove his talent, but despite 6 straight finishes over James Irvin, Matt Lindland, Jesse Taylor, Rodney Wallace, Kendall Grove, and Melvin Manhoef, Khalidov is still largely unknown to the common MMA fan.
Khalidov was rumored to have signed with Strikeforce in late 2012, which granted him the non-exclusivity to continue fighting in KSW. Unfortunately, Strikeforce soon ceased operations. Khalidov had also been rumored to have been in talks with the UFC and Bellator during 2012 and 2013. The UFC publicly acknowledged their contract offer to Khalidov, but Khalidov supposedly found it unsatisfactory.
Camp/ Country:
Khalidov trains out of Arrachion MMA Olsztyn, which has a small collection of Polish talent, highlighted by KSW Welterweight Champion Aslambek Saidov. Khalidov also trains out of KSW's sponsored team, which houses other KSW fighters like Jan Blachowicz, Antoni Chmielewski, and Lucasz Jurkowski.
Khalidov's management team ultimately coincides with his promoter, KSW. They have allowed Khalidov to compete in other organizations like EliteXC and Sengoku, mainly under the premise that the contract was non-exclusive. The UFC and Khalidov have failed to reach an agreement, partially because Khalidov earns more in KSW with sponsorships, but also because of the loyalty KSW and Khalidov have shown to each other over the years. Khalidov has stated in past interviews that he feels an obligation to see out KSW's goals of being a worldwide promotion. KSW puts on one of the best shows in the sport, but beyond hardcore MMA fans and those watching in Poland, it's mostly happening in a bubble of sorts. Unfortunately, Khalidov is starting to watch his prime years slowly tick away as KSW has come no closer to becoming a worldwide promoter than they were 3-4 years ago.
Career Forecast
Khalidov has gone an astonishing 24-1-2 in his last 27 fights. During this time, he has not only defeated, but finished a long list of current and former UFC veterans. Khalidov's recent 7-fight win streak may be the most impressive of all though as he has beaten the likes of Kendall Grove, Jesse Taylor, and Melvin Manhoef.
Khalidov is one of the elite finishers in MMA today. He has knockout power and solid submission skills, and is extremely explosive when he needs to be. He is very unorthodox with his heel kicks and rolling for leg locks. Khalidov's aggressive style has led to 96% finishing rate, which is literally unheard of in a fight career spanning over 30 bouts. Khalidov's striking offense usually revolves around a variety of kicks, which include heavy leg kicks and spinning attacks. He favors his right hand, and though at times can be a bit lunging, he is usually fairly accurate. He also has a big uppercut that has led to some past victories.
Though Khalidov's takedown defense looks solid, it is still a bit of a question mark should he eventually sign with the UFC. Khalidov is not considered to be an overly large Middleweight despite the fact that he used to compete at 205 lbs. We have seen him struggle in fights with Ryuta Sakurai and Jorge Santiago because of wrestling and conditioning. Khalidov is very dangerous from his back, but knowing his conditioning issues, I'm not sure he would have as much success rolling for leg locks against elite level competition.
Khalidov is at the stage in his career where it's either now or never on whether he will test himself against the best in the world. KSW has tried to market fighters like Grove and Lindland as being world class Middleweights when that is just simply not true at this stage in their respective fight careers. Thus, Khalidov can easily continue to rack up wins over former UFC veterans or he can try to bring Poland's MMA fight scene to prominence by bringing his talents stateside. The UFC is rumored to be visiting Poland in 2014 and it would be a shame for Khalidov to not have the opportunity to compete on the biggest stage possible. His talent level deserves that honor.
I still think Khalidov has the capability to go into the UFC and be a frontline contender with Top 5 potential. He is such a dangerous finisher that you legitimately cannot count him out of any fight, regardless of the matchup. Though Khalidov is north of 30, he still fighting as if he is in his prime. His recent fight against Kendall Grove was extremely telling due to the stakes involved. Grove had recently been released by the UFC just a year prior. He was 5-1 since being cut and was told by UFC executives that if he beat Khalidov he would be brought back to the UFC. Yes, Grove had to deal with traveling and the absence of a full training camp, but nonetheless he came into the fight motivated to win. Khalidov not only controlled most of the fight with his striking, he finished the fight via submission, once again proving his merits an elite level talent. Grove may not have been a Top 15 fighter, but he was tough to finish, having recently gone to decisions with Demian Maia and Tim Boetsch. The UFC likely had a close eye on the fight, knowing that Grove would be a good barometer for Khalidov's capabilities against UFC level competition.
It is fairly certain that the UFC knows Khalidov is one of the top Middleweights in the world. They have made it known that they have attempted numerous times to sign Khalidov in the past, but they are not willing to overpay and possibly blow up their business model just to bring Khalidov stateside. Khalidov has a true affinity for his adopted home of Poland. The fans cheer his name in the KSW promotion. It is a true sign of love and respect for a fighter that has never left them for the riches and fame that could await a UFC career.
Statistics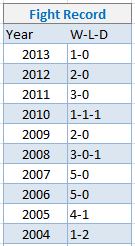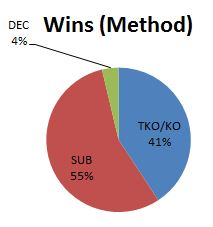 Videos
Video 1: Khalidov vs. Kendall Grove (2013)

Video 2: Khalidov Highlights

Other Links
Twitter: None
Sherdog Profile: http://www.sherdog.com/fighter/Mamed-Khalidov-10489
The 2013 MMA Prospects Report