Jake Butler : MMA Prospects Report 2013
08/26/2013
7368 Views
Light Heavyweight Division
#10 Prospect: Jake Butler

Profile:
Jake Butler should be walking around in a suit somewhere on wall street right now. Yet, the graduate of Princeton University left that world behind to follow his passion for competition and a potential future in mixed martial arts.
Butler grew up wrestling, finding success throughout his various competitions around the New Jersey area. He eventually began wrestling for Princeton University where he became the team captain for his final 2 years. Butler graduated and moved on to work in the professional world, though part of him still had a desire to seek out athletic competition. As the years wore on, Butler decided it was now or never and soon packed up his bags to Singapore where he began training at Team Evolve.
Butler's wrestling ability was somewhat of a rarity in Southeast Asia and has thus far built a 2-0 record in Asia's One FC promotion. Butler is scheduled to face James Kouame at One FC 10 in September.
Camp/ Country:
Butler hand picked Team Evolve as his destination of choice. Butler enjoyed the Southeast Asian terrain from a previous surfing trip, and he knew his wrestling would likely make him a valuable entity in that part of the world. Evolve MMA has developed into quite possibly the premier training camp in all of Asia. It houses Shinya Aoki, Rafael dos Anjos, and prospects Leandro Issa and Zorobabel Moreira. In addition, Team Evolve founder Chatri Sityodtong personally invited Butler to join Team Evolve and likely has the connections to take Butler to the next level when the time is right.
Career Forecast
Jake Butler is a very green fighter at this stage in his career. Looking up an down the UFC's current Light Heavyweight roster, I really don't see him beating any of them. That's not a knock on Butler, it's just that he is a ways to go before being ready to face world class competition. Scouring through the Light Heayvweight prospects across the world honestly became a bit depressing. There just simply isn't that much top level talent competing on the various regional circuits. With few legitimate prospects to pick from, Butler to me had the best potential and training environment to hopefully one day compete in the UFC.
Butler does have a lot going for him, starting off with his wrestling. He wasn't an elite level Division I wrestler, but he certainly has the background and skills to be better than most other Light Heavyweights. From the brief amount of footage I could find, Butler looks to be quite an athlete and has truly dedicated himself towards becoming a better striker and well-rounded fighter. He has great size and should hold an advantage over most of the opposition he faces in One FC.
There are concerns about Butler's overall potential towards eventually fighting in the UFC or possibly Bellator. Butler is about to turn 31 years old, and though he doesn't have a lot of wear and tear on his body, he has quite a big learning curve to master in regards to mastering all the skills needed to be an elite level fighter. I love the fact that he is training at Team Evolve where he can work on his striking, but another part of me wonders whether he is wasting his time in trying to develop those skills. Butler is a wrestler. He's going to win fights based on his wrestling. It is extremely rare for a wrestler to start training striking and in a matter of 2 years be a dangerous striker. Maybe, Josh Koscheck was the exception, but that was quite a few years ago. My point is that Butler isn't getting any younger at this stage, and he may be best served by eventually aligning himself with a camp that can bring out the best in his wrestling and ground 'n' pound skills. Team Evolve will not be able to provide that for him.
If Butler can somehow develop his overall skills in the next 2 years, he has a chance to compete in the UFC. He should enjoy his stint in One FC where he can feast on lesser competition and hopefully come into his own as a finisher. Butler has the raw skills to make it, but it remains to be seen how he reacts to getting punched in the face or fighting past the 1st round. Butler abandoned a well-paying job to follow his passion, so one has to admire his tenacity and resolve into getting to where he is today.
Statistics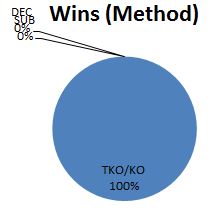 Videos
Video 1: Butler vs. Antoni Romulo (2013)

Video 2: Butler Feature Story

Other Links
Twitter: https://twitter.com/JakeFB
Sherdog Profile: http://www.sherdog.com/fighter/Jake-Butler-122759
The 2013 MMA Prospects Report