Guram Gugenishvili : MMA Prospects Report 2013
09/17/2013
7676 Views
Heavyweight Division
#4 Prospect: Guram Gugenishvili

[review]
Profile:
Guram Gugenisvili was supposed to be the next big thing at Heavyweight. He was once the #1 ranked Heavyweight prospect by Leland Roling and Smoogy back in 2011, but it all came crashing down for Guram as injuries and back-to-back losses have crippled his once promising career.
Guram was born in Georgia, which is a sovereign state located in Eurasia. Guram grew up mostly playing soccer, but soon found the sport of mixed martial arts and began training, finding specific success in Sambo. Guram eventually went on to make his MMA debut in 2009, though he said he has a couple of fights not listed by most American MMA databases.
Guram went 5-0 in 2009, submitting his first 4 opponents in the opening round. Guram was exlusively fighting for the M-1 promotion by late 2009 and quikcly rose through the ranks as one of the top Heavyweights in Eastern Europe. Guram went on to capture the M-1 Western European Championship in 2010 before soon winning M-1's Heavyweight Championship by submitting Kenny Garner.
Guram started to gain some attention stateside as M-1 had scored a broadcast deal with Showtime due to their partnership with Strikeforce. Guram successfully defended his title against Maxim Grishin in 2011 and was set to make his USA debut, but injuries forced Guram out of two separate fights and ultimately kept him sidelined for over a year.
Guram returned in 2012, but he still looked to be struggling with issues as he lost his M-1 Heavyweight title to Kenny Garner. Guram looked to get his revenge just 5 months later, but Garner was once again able to finish Guram via TKO. Guram has not fought since December of 2012.
Camp/ Country:
Guram used to train out of MakFight in the Ukraine, though his current training situation is unknown. He once trained at Xtreme Couture in 2011 and has also been listed as training at M-1 Georgia and the Aris Sports Club. Guram's training environment in Georgia and the Ukraine has not produced a ton of international talent. The only other semi known fighter to train at MakFight was David Tkeshelasvili who is only 8-6 overall.
Guram's affiliation with M-1 is unknown at this point. They put a lot of time, money, and effort promoting Guram over the years and it doubtful that they would have released him from his contract despite not competing for nearly a year.
Career Forecast
Guram has lost nearly all of the hype that once surrounded his promising career. A loss to Kenny Garner isn't the worst thing in the world, but it was the way he lost that was reason for concern. Guram seemed to never recover from his year off recovering from various arm injuries.
Guram is lackadaisical at times and has struggled with quicker fighters. Guram, despite looking in good physical shape lacks elite athleticism. He is very methodical and can be a standing target when he is not able to get his fights to the ground. His striking technique is lacking as well. After the 1st round, Guram gets extremely sloppy with his technique and does not look anywhere near ready to challenge UFC competition. He does not defend leg kicks well and is a bit stiff with his overall movement.
There is hope though. Prior to his injuries, Guram was a beast on the ground. He has excellent size at 6'5 and over 250 lbs. He was a former bodybuilder, so he's strong and has a good base to work from. When he is in top position, he's very effective and is well-versed at finishing his fights via submission. When he is not fighting fatigue, Guram does have some decent knees from the clinch, a stiff left jab, and some power in his right hand.
Guram just turned 27 years old. If he were in his 30's, he probably wouldn't have made my Top 10, but because he still has time to bounce back and reclaim his top prospect status, I could not dismiss his potential. There are still concerns, mainly attributed to his health and training environment. Guram needs to be in peak condition to compete amongst Eastern Europe's top heavyweights.
The opportunity is there for Guram to be the top Heavyweight outside of the UFC. His wrestling and ground game could prove difficult weapons for most of M-1's heavyweight roster including #5 Heavyweight prospect Magomed Malikov. There are more questions than answers revolving Guram's current status, but hopefully he has been busy working feverishly on his conditioning, striking, and takedown defense.
Based off Guram's last 2 fights, he does not belong in the UFC. Yet, if he returns healthy with better cardio and an improved killer instinct, big things could be ahead for Guram. He will likely never be a Top 10 contender due to his lack of speed and striking, but he could become a solid grinder, comparing similarly to a lesser skilled Josh Barnett.
Statistics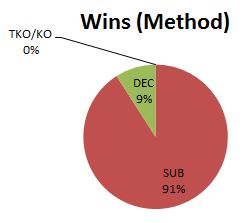 Videos
Video 1: Gugenishvili vs. Maxim Grishin (2011)

Video 2: Gugenishvili Highlights

Other Links
Twitter: None
Sherdog Profile: http://www.sherdog.com/fighter/Guram-Gugenishvili-53100
The 2013 MMA Prospects Report