Francimar Barroso : MMA Prospects Report 2013
08/27/2013
7533 Views
Light Heavyweight Division
#9 Prospect: Francimar Barroso

*Francimar Barroso has been signed by the UFC
Profile:
Francimar "Bodao" Barroso has been one of Brazil's top Light Heavyweight prospect for many years, yet he has still not gotten his opportunity to compete stateside.
Barroso was born into humble beginnings in a tiny region of Brazil. Barroso eventually found his way to mixed martial arts where he immediately looked to align himself with the famed Nova Uniao training camp. Barroso made his official MMA debut in 2005, though he struggled out of the gates, going 3-2 overall. He bounced back with a win before moving to Rio de Janeiro in order to train full-time at Nova Uniao.
Success quickly followed as Barroso compiled a 9-fight win streak from 2008 to 2010, including wins over experienced Brazilians Joao Paulo Souza, Paulo Rodrigues, and Kleber Orgulho. Barroso was arguably the top Light Heavyweight prospect outside of Glover Teixeira in all of Brazil, but was unable to translate that success into a UFC contract. In 2011, he fought overseas in Jordan, but suffered an upset loss to Russian Baga Agaev.
Barroso was out for nearly a year's time before returning to Shooto Brazil, winning his next 2 fights via 1st round finish. His lone fight in 2013 was a submission victory over fellow prospect Simao Melo in the WOCS promotion.
Camp/ Country:
Barroso trains out of Nova Uniao under the tutelage of Andre Pederneiras. He originally trained at Nova Uniao Manaus, which is one of their main affiliates, but has since moved full-time to Rio de Janeiro where he trains alongside a lengthy list of elite level talent like Jose Aldo, Renan Barao, Thales Leites, and Ronny Markes. Barroso has surprisingly not signed with the UFC considering his Nova Uniao connections. Pederneiras is known for getting his most experienced and talented fighters to the next level, but Barroso's situation is one of those rare exceptions.
Career Forecast
Francimar Barroso should be fighting in a major promotion at this stage in his career. There are few challenges left in Brazil due to a lack of Light Heavyweight talent. The stats don't lie as Barroso is 12-1 since 2008, with 11 of those wins coming via stoppage. His lone loss was simply the result of him being caught. At 33 years of age, Barroso has little time to spare in regards to his fighting prime.
Barroso has scored some impressive knockouts throughout the years, including a :05 head kick knockout that led to some brief notoriety. Don't be fooled though, Barroso's bread and butter is his ground game. Barroso falls right in line with the rest of his Nova Uniao brethren as comes equipped with excellent grappling and submission skills. Nova Uniao does not feature a lot of heavier fighters, though they have produced Middleweights Thales Leites and Ronny Markes.
I don't think Barroso has the raw athleticism of Markes, but he fights a very similar style in that he limits his striking exchanges and prefers to fight out of the clinch where he can look for takedowns. Barroso does have power in his hands and feet, but his only consistent striking weapon are his leg kicks. His striking defense is still a major concern from what I saw on tape. Barroso routinely drops his hands and can be a bit slow with his footwork.
Overall, I could envision Barroso having some decent success at the UFC level. Though some recent Brazilian Light Heavyweight signings like Wagner Prado and Ednaldo Oliveira have fizzled out, Barroso should bring a much better grappling game to the division that should give him a fighting chance against the bottom half of the UFC's Light Heavyweight roster. I think Barroso's striking and conditioning will ultimately keep him from reaching Top 15 status, but I wouldn't be surprised to see him up his game and possibly pull off some upsets along the way. I also wouldn't rule out an eventual move to Middleweight should Barroso struggle initially in the UFC.
Statistics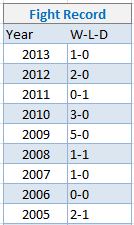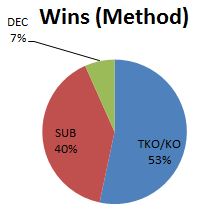 Videos
Video 1: Barroso vs. Falco Lopes (2012)

Video 2: Barroso Highlights

Other Links
Twitter: None
Sherdog Profile: http://www.sherdog.com/fighter/Francimar-Barroso-14702
The 2013 MMA Prospects Report