Elvis Mutapcic : MMA Prospects Report 2013
08/22/2013
7713 Views
Middleweight Division
#2 Prospect: Elvis Mutapcic

Profile:
Elvis Mutapcic is one of the fastest rising prospects in the sport thanks to a 5-fight win streak that included victories over TUF alumni Cezar Ferreira, Sam Alvey, and Joseph Henle. Mutapcic was the reigning MFC Middleweight Champion before vacating his title to sign with the upstart World Series of Fighting promotion.
Mutapcic grew up in Bosnia, which placed him right in the epicenter of daily warfare. Luckily, Mutapcic's family moved stateside, settling into Des Moines, Iowa, which has always been known as a hotbed of MMA talent. Mutapcic began training and was soon competing at 17 years old, though the fights were considered non-sanctioned. He soon drifted away from the sport for nearly 4 years as he stayed busy working various jobs. Mutapcic eventually joined a new fight camp and resumed his career in 2007. The major MMA databases vary in accuracy regarding his early days, but according to Sherdog, he went 0-3 as an amateur despite some of those fights occurring after his pro debut. Nonetheless, once Mutapcic turned pro, he started to rack up wins, including 3 straight finishes to kick off his career. Mutapcic's undefeated streak would soon come to an end as he lost a split decision to former prospect Andy Branson.
Mutapcic bounced back by winning his next 5 fights, including victories over TUF' 17 alum Zak Cummings and Josh Rosaaen. Mutapcic seemed to be moving on to bigger and better things as he signed with Shark Fights in 2011. Competing as the co-main event of Shark Fights 16, Mutapcic squared off against fellow prospect Artenas Young. Both fighters struggled to mount any offense, though Young was able to do just enough to win via decision.
The loss was thought to be devastating for Mutapcic's future career prospects, but Mutapcic redeemed himself in a huge way as just 2 months later he knocked out future TUF Brazil 1 winner Cezar "Mutante" Ferreira in the opening seconds of their fight. Ferreira was considered to be one of the top prospects in the world and in a blink of an eye, Mutapcic stole all of that thunder. Mutapcic has not looked back since, winning his next fight via submission before signing with the Canadian-based MFC.
Mutapcic made an emphatic MFC debut by finishing veteran Jacen Flynn via 1st round TKO. Mutapcic was soon vying for the vacant MFC Middleweight title as he was matched up against TUF 11 alum Joseph Henle. The fight was even after 2 rounds, but Mutapcic was able to earn the stoppage in Round 3 after leveling Henle with a huge leg kick that ultimately injured Henle's knee. Mutapcic went on to successfully defend his title in a hard-fought 5-round decision over TUF 16's Sam Alvey.
Mutapcic has since signed with the World Series of Fighting and is set to compete in their 4-man Middleweight tournament, which will crown their inaugural Middleweight Champion. Mutapcic will face UFC veteran Jesse Taylor in the 1st round of the tournament.
Camp/ Country:
Mutapcic trains out of the Roundkick Gym in Iowa. Not much is known about the camp though Mutapcic has been known to train with UFC veteran Josh Neer. Neer is a warrior of a fighter, but he alone will not be able to give Mutapcic the level of training needed to reach elite status in the UFC. Neer notoriously struggled with his wrestling, so it would be a mistake for Mutapcic to think he can continue to win with just his striking and some submission skills.
Career Forecast
Elvis Mutapcic seemed to be on his way to the UFC, but in a bit of a surprise he ended up signing with WSOF. With recent news that WSOF's contracts are much more stringent than first thought, it now seems unlikely that Mutapcic will be fighting in the UFC any time soon. He is set to face Jesse Taylor, with the winner facing Dave Branch or Danillo Villefort for the title. Mutapcic has historically struggled against wrestlers, so this is a very dangerous fight for Mutapcic.
Mutapcic is a powerhouse in the striking department. He does have one-punch power, but he is usually more lethal with his kicks and knees, usually targeting the legs and midsections of his opponents. Mutapcic has developed some decent takedown defense and submission skills over the last few years, but being on the ground is still not his strong suit. Mutapcic showed he could go 5 rounds in his fight with Alvey, but he did slow down tremendously, so he will have to continue and work on his conditioning as he steps up his competition level.
Mutapcic's main weakness is his wrestling. He struggles fighting off his back and his overall ability with transitions and reversals are lacking. As previously mentioned, his fight against Jesse Taylor will either be a rude awakening or a true sign that Mutapcic has turned the corner with his wrestling.
His move to WSOF seems to be a lose-lose situation at this point. He could go in and win their title, but then be stuck in their promotion with a championship clause intact. There are simply not enough high-level Middleweights roaming around the free agent market that WSOF could bring in for him should he win the title. The flip side would be if he lost to Taylor in the opening round of the tournament, where he would ultimately lose all the hype he has recently accumulated. Mutapcic was likely 1 fight away from a UFC contract, but he essentially threw that opportunity away by signing with WSOF.
Mutapcic currently has Top 15 potential in the UFC Middleweight Division, though part of me wonders if he could ever cut down to Welterweight. His wrestling is still the big question mark, but if he can keep his fights standing, he could compare very favorably to Costa Philippou and Lorenz Larkin. Mutapcic has all the makings of a fan favorite. He delivers big punches with a quiet, humble personality similar to Robbie Lawler. Mutapcic doesn't have that type of polish yet, but he looks to be right on the brink of making that happen.
Statistics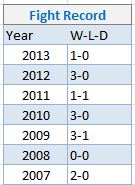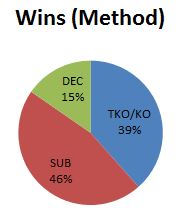 Videos
Video 1: Mutapcic vs. Cezar Ferreira (2011)

Video 2: Mutapcic Feature Story on InsideMMA

Other Links
Twitter: https://twitter.com/ElvisMutapcic
Sherdog Profile: http://www.sherdog.com/fighter/Elvis-Mutapcic-28038
The 2013 MMA Prospects Report