Chidi Njokuani : MMA Prospects Report 2013
07/29/2013
7613 Views
Welterweight Division
#10 Prospect: Chidi Njokuani

Profile:
Chidi "Chidi Bang Bang" will likely be making his way to the UFC in 2014. He's not quite ready yet, but he is finally starting to come into his own as a fighter and he would want nothing more to fight alongside his older brother on a future UFC card.
Chidi was born in the USA after his family had immigrated from Nigeria. His elder brother, Anthony, led the way towards getting him involved in mixed martial arts at a very young age. After first getting his base in Muay Thai, Chidi moved over to MMA where he made his debut in 2007 at just 18 years old. Chidi won his first 2 career fights over the course of 2+ years before moving up in competition to face TUF 11's Warren Thompson and future UFC vet Jorge Lopez. Njokuani lost both fights in the 1st round, signaling that there was much work still to be done in preparing him for a future career in the UFC.
Chidi was able to bounce back with 3 straight finish victories including a win over fellow prospect Alan Jouban. Njokuani soon set his sights on another top prospect, recent UFC signee Brandon Thatch. The fight did not last long though as Njokuani was finished within a minute of the 1st round.
Chidi bounced around between various mid-level promotions, Legacy FC and Tachi PF, where he was able to score 1st round finishes over Jonathan Harris and John Reedy. Midway through 2012, Chidi was offered a contract by the prospect-rich Resurrection Fight Alliance promotion. Njokuani quickly extended his winning streak to 4 as he knocked off Bobby Cooper and Phil Dace to bring his overall record to 9-3.
Njokuani was ready to test himself against another rising prospect, this time accepting a catchweight (177.5) fight with Jeremy Kimball. Both fighters ended up missing weight, and the bout ended up being fought at 180 lbs. Njokuani's grappling looked much improved in the 1st round, but he eventually was taken down and submitted in the 2nd. Kimball was supposedly offered a Bellator contract after the fight, while Njokuani's road to the UFC will likely require a few more wins, hopefully starting with his scheduled August showdown with Bellator veteran LeVon Maynard.
Camp/ Country:
Njokuani trains alongside his brother at Janjira Muay Thai, which is home to top striking coach Saekson Janjira. The Njokuani brothers also train out of One Kick Gym and Sergio Penha's BJJ. Stephan Bonnar and Steve Cantwell trained out of One Kick Gym for awhile, while Bellator's David Rickels is probably the most notable name to come out of Janjira Muay Thai. As long as Njokuani is getting some type of regular exposure to high-level wrestlers, he really doesn't have to worry about anything else. He should already have connections to most major promotions, since his older brother is a fairly well known veteran in the UFC.
Career Forecast
Chidi's career looked to be on the upswing heading into his 2013 bout with Middleweight prospect Jeremy Kimball. Njokuani was likely on the verge of a UFC deal after an impressive 4-0 run in 2012. Yet, Chidi made a a mistake accepting the fight with a tougher than expected Kimball, especially considering it was set to be contested at a catchweight of 177.5 lbs. Though Njokuani was strong early, his grappling once again failed him as Kimball choked him out in the 2nd round.
The Njokuani brothers have very similar skills, body types, fighting styles, and weaknesses. Even though you can see the improvements in their overall grappling skills, they continue to struggle against bigger, stronger wrestlers. When Chidi can keep his fights standing, he is truly one of the most dangerous strikers in the sport. His long wingspan provides him a distinct advantage in unleashing his brutal Muay Thai and kickboxing attacks. Chidi also has a better killer instinct at this point in his career than his brother.
For him to take that next step, he is going to have to truly start working on his wrestling full-time. Chidi's long, lean body type does not hold up well against wrestling-based opponents. Though unlikely, an eventual move to Middleweight could breathe new life into Njokuani's career. He would keep his speed and size advantage, while also allowing himself to gain the necessary muscle and weight needed to take his game to the next level. Chidi has the ideal frame to become a beast at 185. Take Uriah Hall for example, who is 3 inches shorter than Chidi, and has pretty much became an overnight star thanks to his striking talents. Hall's overall grappling game is not much better than Chidi's, but Hall has made the necessary adjustments with his style and training regimen to up his game over the years. Chidi needs to adapt a similar philosophy because his Muay Thai will only take him so far.
At this point in time my expectations for Chidi are very aligned with what Anthony has done in his UFC/WEC career. I think Chidi can carve out a nice UFC career as long as he is matched up against fellow strikers, but his career will likely be plagued with inconsistency.
So, then why is Chidi still considered a Top 10 prospect if we know he's likely going to be .500 fighter in the UFC? After watching Anthony and Chidi's last few fights, it's very noticeable that they are starting to make real improvements with their grappling. While Anthony is already 33 years old, Chidi is just 24. He still has plenty of time to get into the gym and truly round out his skill set in order to eliminate the inconsistency that has so far defined his career. Being a .500 fighter in the UFC is a difficult task, so knowing that is the likely worst case scenario for Chidi, I will take my chances with the potential he may one day have.
Statistics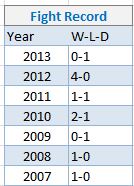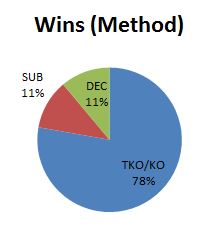 Videos
Video 1: Njokuani vs. Jonathan Harris (2012)

Video 2: Njokuani Highlights

Other Links
Twitter: https://twitter.com/ChidiBangNjoku
Sherdog Profile: http://www.sherdog.com/fighter/Chidi-Njokuani-25761
The 2013 MMA Prospects Report