Bubba Bush : MMA Prospects Report 2013
08/16/2013
8934 Views
Middleweight Division
#7 Prospect: Bubba Bush

Profile:
William "Bubba" Bush is the current Legacy FC Middleweight Champion. Bubba makes it no secret that he likes to wrestle, and with a few more wins we will likely see him scoring takedowns in the UFC's Middleweight Division.
Bush grew up wrestling in Virgina before moving to Texas. I was unable to find any information about him possibly competing at the collegiate level, though he did graduate from Texas A&M in 2007. Bush briefly tested the waters in MMA in 2007 where he easily won his debut via 1st round TKO. He would not compete again for nearly 3 years before finally returning full-time.
Bush signed with Legacy FC and immediately made his presence known by finishing Chris Spicer. Legacy FC was quickly looking to crown a new Middleweight Champion, and surprisingly decided to pit Bush against Legacy FC newcomer and future UFC veteran Andrew Craig. It was a tough, gritty fight that went all the way to the 5th round, but ultimately Bush's conditioning failed him and Craig stormed back to win via TKO.
Bush bounced back by winning his next 2 fights before losing a controversial disqualification to Artenas Young. Bush was dominating the fight, but due to some illegal punches to the back of the head, the fight was stopped.
Bush had two separate fights scrapped due to injuries, but was finally able to notch a win over journeyman Jon Kirk before once again being offered a shot to fight for the Legacy FC Middleweight title. This time, Bush did not disappoint as he defeated fellow prospect Larry Crowe via 2nd round TKO.
Camp/ Country:
Bush trains out of Brazos Valley MMA, which is not home to any notable names. Luckily, Bush has recently been training with Tim Kennedy, Colton Smith, and Andrew Craig. Bush will hopefully continue to train alongside UFC quality competition because he still needs ample work on his striking before making the leap to the UFC.
Bush also is signed by First Round Management which has a successful track record getting its fighters to the UFC.
Career Forecast
Bubba Bush is a beast of a wrestler. He is big, strong, and relentless with his takedowns. He is a very hard worker and just recently he quit his day job to pursue MMA full-time. Considering his only legitimate loss was a 5-round war against Andrew Craig, who is now finding success at the UFC level, expectations are high for Bush's potential.
Bush recently won the Legacy FC Championship, and despite his management putting out feelers to the UFC, it looks as if he will return to Legacy to defend his title. Legacy FC has recently sent Craig, Brian Melancon, Daniel Pineda, and Derrick Lewis to the UFC, so there is a strong likelihood that Bush will find himself in the UFC should he win his next 1-2 fights.
Bush has a straight forward wrestling approach to fighting. Bush's wrestling is excellent despite him not having the All-American pedigree. He has great size and brute strength. Bush likes to be the bully in the fight and he is relentless with his efforts to get things to the ground even if he has to take a few punches to do so. He has been working on his striking over the last few years, but he is still a bit stiff, especially when it comes to his footwork and head movement. Bush has an excellent chin, but he will need to really round out his game in order to find success at the upper levels of the UFC Middleweight Division.
Bush has the potential to be a Top 20 fighter in the UFC if he continues to make progress with his striking and overall finishing ability. I'm not so sure he is quite ready to accomplish that yet. Bush can at times remind me of Karlos Vemola, who was recently cut by the UFC. Vemola was a big, strong wrestler that simply was too rough around the edges to compete with better skilled competition. Bush will have to learn to pace himself in big fights and also hopefully have enough striking to survive should he not be able to score takedowns. These are still fairly big question marks and my hope is that Bush will win his next fight in Legacy and move full-time to a larger camp that can give him access to world class training.
If Bubba can maintain the path he is on, there is absolutely no reason he should not be signed to the UFC in 2014.
Statistics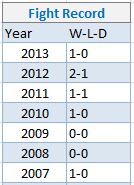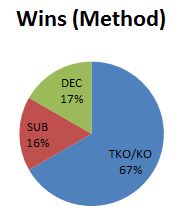 Videos
Video 1: Bush vs. Patrick Hutton (2012)

Video 2: Bush vs. Joshua Strahan (2007)

Other Links
Twitter: https://twitter.com/BubbaBushMMA
Sherdog Profile: http://www.sherdog.com/fighter/Bubba-Bush-29111
The 2013 MMA Prospects Report