Alex Garcia : MMA Prospects Report 2013
08/09/2013
7239 Views
Welterweight Division
#1 Prospect: Alex Garcia

Profile:
Alex Garcia has all the physical tools to one day become an absolute beast in the UFC Welterweight Division. Out of all the prospects researched in this report, no one rivals Garcia's pure athleticism and explosiveness as a fighter.
After originally being born in the Dominican Republic, Garcia eventually made his way to Canada. He made his MMA debut in 2009, winning his first 2 fights via 1st round finish. Garcia soon signed with Ringside MMA, where he has spent the vast majority of his career competing in. Garcia gradually stepped up his competition level, improving to 6-0 overall, winning every fight via finish.
Garcia soon started to find it hard to find willing opponent to step into the cage with him. He finally got a taker and his first true test in UFC veteran Seth Baczynski. Garcia started out the fight in his usual fashion, pushing the pace and dominating the action, but he soon made a mistake and was put on his back. It seemed to be foreign territory for Garcia as he was unable to weather a storm of strikes from Baczynski. The UFC was likely set to sign Garcia had he won, but instead re-signed Baczynski following the win.
Garcia's prospect status lost some of its luster, but he has since bounced back by winning his last 3 fights, including victories over respected Canadians Matt MacGrath and Ryan Dickson. Garcia's next fight is tentatively scheduled for August as he faces undefeated prospect Chris Heatherly in Canada's Challenge MMA promotion.
Camp/ Country:
Garcia's training environment is another reason why he is considered one the sport's elite prospects. He trains out of Tristar Gym alongside UFC Welterweight Champion Georges St.Pierre and other high-level veterans Rory MacDonald, Brandon Thatch, Ivan Menjivar, and Yves Jabouin. Garcia's training partners have raved about his potential and they all seem to share the similar feeling that Garcia should be fighting at the UFC level.
Career Forecast
Dana White has recently been amazed by Uriah Hall and Diego Brandao during recent seasons of TUF, even commenting that these guys came out of nowhere. The truth is Hall and Brandao were solid prospects that were simply never given the opportunity to perform on the big stage. Garcia faces that same dilemma. He has basically been fighting in obscurity up in Canada, but once Dana White and Joe Silva are finally able to see this guy fight in person, there is absolutely no way the can ignore the raw talent that Garcia possesses.
Garcia fights a very similar style to that of Hector Lombard. They are both compact, powerhouses with speed and explosiveness. Garcia has displayed huge KO power and big highlight-reel slams that are sure to make him a fan favorite once he signs with the UFC. Garcia's takedowns and overall grappling prowess have continually improved over the years as he has worked alongside the Georges St.Pierre and Rory MacDonald at Tristar.
Garcia's striking is not as technical as it could be. He will swing for the fences, which at times can leave him open for big counters. He has rarely faced opposition that can expose that weakness, but once in the UFC, he will need to tighten up his striking. Also, as we have seen with other thickly muscled, 1st round finishers, if Garcia does not stop the fight early, his conditioning quickly becomes an issue. In his sole loss to Baczynski, we saw firsthand how Garcia's lack of stamina can affect the outcome of his fights. Garcia will have to learn to pick his spots in which to unleash his combinations or risk being beaten by lesser fighters with better cardio.
Overall, Garcia is capable of being a Top 10 fighter and a legitimate future contender if he can address his conditioning issues. Garcia has the raw physical skills, an excellent killer instinct, and one of the top MMA teams and management to hopefully take his career to the next level. I can guarantee that when Garcia finally gets his opportunity in the UFC, people are going to wonder where this guy came from. Hopefully, Joe Silva is reading because the time is now to give Garcia the proper platform he deserves to showcase his skills.
Statistics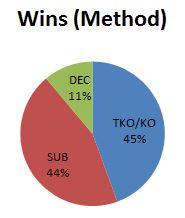 Videos
Video 1: Garcia vs. Seth Baczynski (2011)

Video 2: Garcia Highlights

Other Links
Twitter: https://twitter.com/AlexGarciaMMA
Sherdog Profile: http://www.sherdog.com/fighter/Alex-Garcia-54124
The 2013 MMA Prospects Report